Search for images or info
Blind Contour Drawing
Blind contour drawing is a really important activity that beginner artists need to engage in, to lead them towards their goal of drawing successfully.
Blind contour drawing is the process of drawing the edge of an object without looking at the paper.
At first, it's hard to understand what on earth you gain from this but as with everything we learn, the more we practice, the more things fall into place and make sense in our minds.
The point of the exercise is to learn how to access and use the right side of your brain which helps you accurately observe and portray your subject. The left side of our brain is too busy, it's the part we use all the time and it relies on stuff we already know - whether it is correct or not!
The most common exercise used to practice pure contour drawing is to draw your own hand.
Below you can see the results I achieved after doing the blind contour exercise, which proved to me that it does work!
A contour is an edge and edges combine to make a whole image.
An edge on your hand would be defined as:
the outside
the place where your fingers join
space between your fingers
the flesh around each fingernail, and
where the skin meets to form a wrinkle
Before commencing this activity, make sure you are alone and that you are not likely to be disturbed.
If you are using a single sheet of paper, secure it by taping it down or use a clipboard.
Sit facing the direction away from your paper.
I sat side-on to the table and I turned my chair around so that I had back support. I rested my hand on my leg, I was wearing black pants and that provided an excellent background for me to easily identify edges.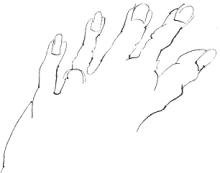 This is attempt number one and while I was shocked it was nothing like I envisaged, I can still conclude it's a hand.
Resist any urge you have to look at your drawing. If you peek, you defeat the purpose of this task.
To begin, place your pencil on your paper.
Now, facing away from the paper, pick a spot on your hand where you'd like to start drawing from.
I started at the top of my wrist because I like to draw from left to right.
As you concentrate on the contour of your hand, start to draw what you are seeing. This is a simultaneous process - draw as your eyes move slowly over your hand.