Difference Between An Angel and A Fairy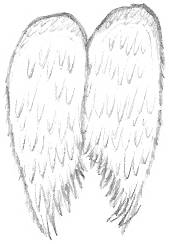 White wings are a distinctive angelic feature that helps us to quickly identify this spiritual guide.
They protrude from the back and are covered in feathers, similar to birds, but the feathers are always white.
Fairies have gossamer wings that are similar to a butterfly, so it is easy to distinguish the difference between fairies and angels.
An angel is a messenger between God and humans. Some people have experienced encounters with them - that is so awesome.
These beautiful heavenly beings are no threat to us.
Sometimes we classify a helpful stranger as an earth angel.
Click here to see more illustration or to learn more about this mysterious character.
There is also more information available about fairies.
If you are looking for particular drawings of angel wings and you just can't find what you have in mind, that's a sign you need to record your original idea on paper!
Lightly sketch in the design you want and if you're still not satisfied, re-do another beside that one. Keep going until eventually you come up with a great image recording your preconceived idea.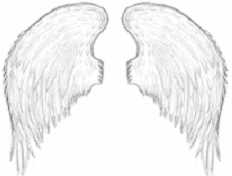 You are welcome to use any of these images to help you design and complete your next sketch. Don't keep reading, start doing!