Drawings of Hibiscus Flowers
On this page you will find a few different drawings of hibiscus flowers.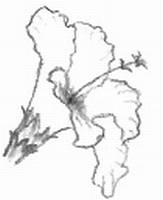 The double hibiscus is so intricate, it really competes with the rose when it comes to drawing in the detail on hibiscus drawings.
If you are going to try hibiscus drawings, here is a very basic outline of the flower for you to start with.
We need to keep with the theory to copy the simplest of all things first. So, this outline is one of the single hibiscus bloom.
Once you copy this, you will see how easy it was, and that provides you with the motivation to try other things. Onward and upward!
A good artist likes to know some background information on their drawing subject so please read on.

Regarding Hibiscus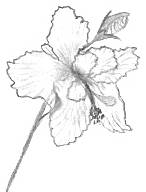 Hibiscus is the name of a group of plants belonging to the mallow family.
This well known group has lots of exotic species and hybrids. They have large colorful flowers that can be single or double bloom.
Hibiscus is found growing in tropical or temperate regions of the world.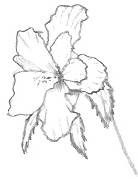 You can grow these beautiful plants from cuttings.
Birds and insects don't seem to pollinate the flowers so growing by seed can be quite difficult.
The hibiscus flower is great for decoration.
When you see this flower you probably have the urge to tuck one behind your ear. That's if you're a female, of course!
They are just so exotic and it's hard not to admire them.

Drawing From Nature
I picked a pink double bloom hibiscus from my garden to draw for you. I did regret that it wasn't a single bloom because they only have five petals and it would have been much easier to draw!
However, not to be deterred, I copied the flower to the best of my ability.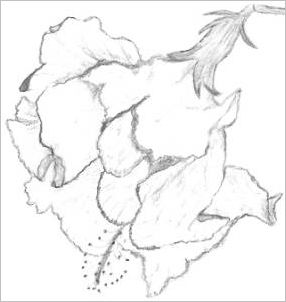 The double bloom is so heavy it doesn't sit upright in the vase so it is hanging down. I mention that so you get the perspective of this drawing.
I hope you like these drawings of hibiscus flowers. I also hope that I have given you the confidence to try hibiscus drawings yourself. Let your eyes direct your pencil and ignore all thoughts. Most of all, please just enjoy drawing.