Search for images or info
Your Easy Animal Drawings

This page provided the opportunity to display your easy animal drawings and you can click here to access guest artwork or simply scroll further down the page.
This is where self taught artists shared their first experiments and also where established artists showed what is possible when you practice.
There are so many different animals represented here but the ones that really touched me were the ones that people drew of their pets.
Thank you to everyone who contributed to making this a really great place to belong.
The facility to upload your drawings is no longer available but, instead, you are very welcome to share your work on the All About Drawings Facebook page.
I sincerely apologize to anyone who is affected by this closure.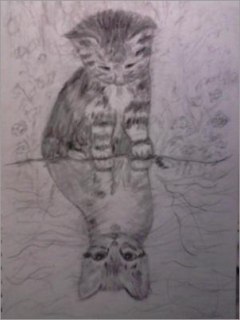 All drawings have a story behind them and it's certainly interesting to watch a beginner artist's progress unfold before your eyes.
This drawing of a kitten was created by a regular guest artist named Sue from Tennessee.
Sue has a wonderful sense of humor and a great spirit.
I really admire Sue and all artists who shared their artwork as they travel the road of learning to draw.
There are many valuable drawing tips and techniques that were revealed along the way so it's worth your time to take a peek.
Sharing what you know gives a tremendous feeling of satisfaction. Who knows, you may inspire a person who goes on to become the next legendary "Master Artist"!
In the meantime, let's enjoy this community and browse through some wonderful drawings by fantastic artists...