Search for images or info
Your Fantasy Drawings
Here is a delightful collection of your fantasy drawings which you so generously shared here over the last couple of years.

Are you now searching for new ideas about drawing fantasy? If so, you will likely find artwork here that will make your mouth drop open with awe! The scope of creatures and features depicted is nothing short of inspirational.
Click to view all the artwork from guest artists or just scroll towards the bottom of the page.
According to Wikipedia, fantasy art is home to supernatural or magical themes and all things fictional. Artists are free to create a fantasy landscape along with creatures of their own making.
Mythical characters like fairies and dragons are quite common in the fantasy art world.
What is fanart?
Fanart is the terminology for artwork by amateur artists who go on to create characters and scenes from fantasy literature.
The majority of artists here are self taught artists. These are individuals without formal training but you should see their creations!
Fantasy drawings allow us to draw without being fussy because the topic is one of mystery -- the artist is the creator and they have the freedom to design anything to the best of their ability.
No comparisons can be made so who can say whether it is good or bad artwork?
Unfortunately, the opportunity to send in new drawings is no longer available and I am sorry for any inconvenience.
On the upside, you are very welcome to share your work on the All About Drawings Facebook page.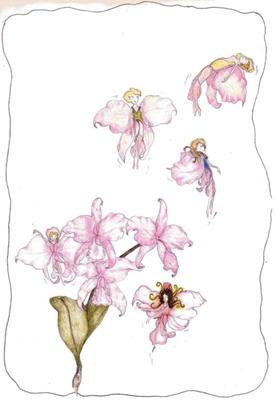 You'll discover that a good number of artists have a wonderful imagination along with incredible pencil skills.
The stories that come with the fantasy art can help aspiring artists find something within them that they didn't know existed beforehand.
That is what sharing is all about and that is why I encourage so many people to start drawing.
It is a shame if anyone misses out on the whole experience that drawing and learning to draw can provide.
For an example, this is a drawing by Atita from Indonesia.
Atita displays amazing creative talent because the idea for this fantasy drawing was born while she gazed at her Mother's orchid.
You will find this drawing and other similar ones by visiting Fairies, Angels and Fantasy Beings.
I would like to thank all participating artists here, we have had a lot of fun together and the feedback was so encouraging.