Search for images or info
Your Portrait Drawings
Your portrait drawings now have their own space! If you have come here to see a great variety of portraits in pencil, you are welcome to look through the portraits created by guest artists at allaboutdrawings.com or simply scroll towards the bottom of the page to find them.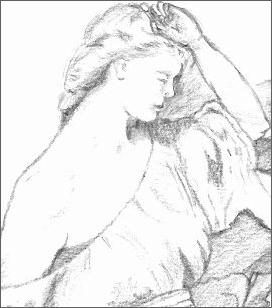 To be successful at drawings portraits, you need to devote time and dedication to the process.
I have been studying how to do portraits since I started learning to draw because it's something I really want to do well.
The drawing I did here is a copy of a piece called "Study For April." Unfortunately, I'm not sure who the original artist was but I know it's old and out of copyright.
This drawing isn't of high standard and I know I need to continue practicing but to be able to get a resemblance (at this early stage) was pretty exciting for me! All it takes now is continued practice and one of these days I'll get it right.
I scanned this from my sketchbook so I apologize that it's not very clear.
It's obvious by looking at all the guest drawings and reading their stories that all of us aspire to be able to draw good portraits.
To help me improve at a faster pace, I invested in an online book called 8 Easy Steps To Drawing A Portrait that showed me how to successfully draw portraits using a grid. It was an excellent step by step guide for anyone who is puzzled by how to use a grid and to achieve a realistic portrait drawing.
Just by following the process of using a grid, this book really helped me understand more about drawing portraits - even without using the grid. If you want to take a look, I also share my portrait drawings that I achieved after following that guide.
I am sorry to say that guest drawings are no longer being uploaded to this website for various reasons.
I feel very sad for everyone concerned that it had to be removed and I do apologize for any disappointment you may experience.
However, we've moved to the All About Drawings Facebook page where I urge you to join in and continue to share your work.
Sign up here for your free newsletter!