All that's left now, is to have a go at copying the car to the best of your ability. Just look at the reference pic closely and sketch as you see it. You will find that those little marks come in very handy as they cut your work time in half and you have some decent sketches of cars.
Sometimes, you don't need to go further than just putting down a border with the same dimensions and you can proceed by estimating the distance from each side. Do this lightly, set it out and make sure it fits within the predetermined frame. No one cares if it isn't exact, what matters is that you like what you have produced.
Don't just read this and think you'll remember it - have a go and try it out!

This sedan is my second attempt using some indicators with the added fun of trying to complete it in the shortest amount of time possible.
It looks rough but I will overcome that appearance with consistent practice.
I must point out that my 'sketches' are too neat to be a real sketch. At this early point in my drawing adventure I hadn't yet defined what is a sketch and what is a drawing. I realize I am a neat freak and I have to learn to let go, seriously, just let go!
Multi-Purpose Benefits
You can apply positioning marks to all sorts of subjects - animals, objects, whatever you please. It isn't suitable for all things so if it proves to be more of a hassle and not a help, abandon the idea and find something else to assist you.
It doesn't hurt us to experiment with shortcuts. Some things won't always work but you win because it all results in productive practice.
That's why I'm encouraging you to try this and to adapt it to suit yourself. Ultimately, it gives you more confidence to move on to producing even more great images without assistance of any kind. There is an artistic spirit inside of you that needs to be set free.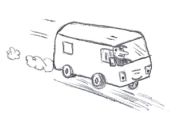 When you are creating sketches of cars, the important thing is to make the task as easy as you possibly can.
This is a drawing aid and one day you'll discover that you just won't need it anymore. Everyone learns by taking tiny steps.
It's a great feeling when you can do sketches of cars with ease and all it takes is a little practice.
To help my progress further, I purchased a terrific eBook called How to Draw Cars. I like it and if you also buy it but decide it's not for you, you won't lose a thing because of their generous 60 day money-back guarantee.
If it is your dream to draw or sketch, join in with me because we owe it to ourselves to fulfill our aspirations.