Hi



Since I learned how to sketch, I've discovered that I can produce lots of sketches in a very short amount of time. It's exciting, it's fun and it's something you should try if you haven't done so already.

Recently, I had the sole intention of doing some sketches but I took a wrong turn somewhere along the way and ended up with a series of neat drawings accomplished by lots of erasing and near-perfect lines. They were nice but they just didn't live up to my expectations of sketches that exude life and movement.

Sketching allows you to let go of any restrictions you place on yourself. It also gives you surprises as you look at what you produced for seemingly no effort.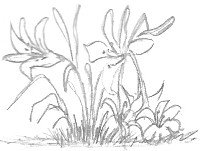 If you also have trouble getting into "sketching" mode, here are some tips that I found useful...
Switch your mind from careful to carefree.
Use your pencil with complete abandon.
No fiddling or seeking perfection.
Hide your eraser.
Keep sketching in lots of lines until it looks right to you.


See my latest flower sketches along with some tips and techniques that I used to produce them.

It doesn't matter how a sketch turns out because if you continue to sketch, you continue to improve.

I love drawing nature because there really are no lines that are right or wrong. Weather is not always permitting for us to be able to sketch outside so don't feel guilty about copying from books. I really enjoy copying other artists and that habit allows me to continuously learn new techniques.

I found some great reference pictures so I progressed from sketching flowers to creating some landscape sketches.

Sketching gives you a sense of freedom and I'm not sure if anything else compares to it.

Free Art Class

Just quickly, I wanted to let you know about a free oil painting art course that I found over at Paint Basket TV. They have started a series of live online classes teaching you how to paint in oils. The course is aimed at beginners, but experienced artists will also pick up many tips along the way.


---
What's New at AllAboutDrawings.com
If you haven't already clicked through to see the new pages on site, here is another chance to see the latest Flower Sketches plus a second page of random pencil sketches.

Your Drawings

Your Space continues to grow at a steady rate.

View all the new drawings sent in over the last 2 months. Please feel free to make a positive comment when a drawing really impresses you.


---
Tip of the Month
Use thick lines when drawing objects that are close up or in the foreground.

If you're sketching, you can group your lines closer together to make something look darker or thicker.

Use thin or lighter lines to portray anything that's far away or near the horizon.
Handy Links
Here is a small selection of online art books that I have personally bought and reviewed. The list contains good quality art books which all carry a money back guarantee.

For common drawing questions, please visit the frequently asked questions page.

Drawing is a very economical hobby. Check the drawing supplies page which describes the materials you need to get started.

The Drawings Blog shows you the last 30 pages to be added to the site.

, thank you for taking the time out of your busy schedule to read this issue.

Take care and I'll catch up with you again in October. In the meantime, have many happy creative days!

Kerry.

www.AllAboutDrawings.com
How To Sketch book

"When you have confidence, you can have a lot of fun. And when you have fun, you can do amazing things." - Unknown


---