Search for images or info
Flowers Sketches
Get your pencil ready to start copying some of these simple flowers sketches. I created these images at an early stage in my learning process so I know you can do it, too.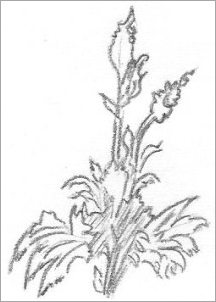 Oh, and be prepared for a surprise when you see how easy it is to duplicate these simple illustrations. You know how I love anything that is simple!
Whenever I sketch, I think of it as a freedom technique...
All the rules fly out the window, I don't have to worry about proportion or accuracy, I only have to put on paper what I see.
Ok, today I have decided I'm doing some various sketches of flowers.
The first thing I need to do is put away my eraser because it is not welcome in this experiment.
Sketches are meant to be produced without thought so there is no need for erasing or any kind of fuss, for that matter.
I clear my mind by "allowing" myself to do my interpretation of flowers in the easiest way possible.
I used a sketch book with textured paper and a wooden 2B pencil which means my images here are all a little blurred, sorry about that.
Blocking-in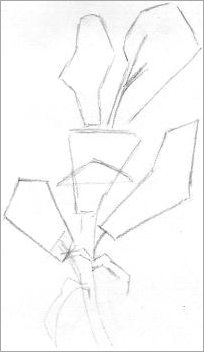 If you feel uncertain and you're not sure how to start flowers sketches, it's a great idea to roughly block out the shapes first.
Of course, these lines should be very light so you won't need to erase them - they'll form a part of your lively sketch.
This is an example of how I blocked in a stalk of snapdragons as the very first stage.
I darkened it a bit in a great free image program called Paint.net but in reality, it is very, very light.
So now I have established a rough draft, I can proceed to fill in the blanks, so to speak.
---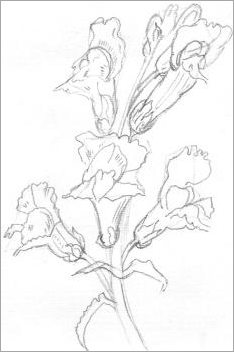 This next image is almost finished using the foundation of the original block-in lines.
It's rough but that's the result I was after. My challenge was to get these flowers sketches down on paper as fast as I could.
Now that I have proven to myself that I can draw snap-dragons, I can do another one based on this experiment, to create an attractive version.
If you don't want to block-in and wish to create freehand, the easiest way to start is to pencil in the sweeping curves of the stem first. This gets your hand moving in a kind of flow action and the rest just follows.
You may also enjoy my Kindle book which shows the 9 different ways to Draw Outlines. It's great value and surprisingly very popular.
Learning to sketch adds a whole new dimension to your drawings. Most artists use sketching as a preliminary drawing but I find those images are also very appealing.
When I draw, I tend to take a long time getting the outline right and I pay attention to proportion along with other considerations.
When I sketch I don't pay attention to anything! That is where the love starts in this beautiful relationship -- no boundaries or restrictions, just freedom to be...