Hi



Well, here we are at the end of a year again, can you believe it? It's time to reflect over the past 12 months - did your drawing aspirations go according to plan? I do hope you have managed to sneak some quality time for you and your pencil.

It doesn't matter what stage you are up to with your drawing skills, you are still able to give gifts incorporating your artwork. It is always the thought that counts and it's such a beautiful gesture when you create your very own Christmas cards. A simple sketch on the front is all that's required, I'm sure you can do it!

Here are some pages that have simple Christmas images that you can copy (great for the trainee artist):



Whenever you draw something that you are proud of (not necessarily with a Christmas theme), place it in a frame to give as a gift. These are treasures that can't be bought or replaced. You have no excuse for how big or small your drawings are because frames come in all sizes these days.

---
Homework
Now that we are coming into a very busy season, it becomes pretty hard to find time to draw. So, I hit upon the idea to simply scribble. In a spare moment, pick up a pen, pencil or crayon, it doesn't matter, and scribble the likeness of an object nearby.

It's kind of like doodling only we are going to try and represent a specific item in a short amount of time.

Below you see my scribble of an angel ornament that my Mum gave to me. It is inscribed with "Believe In Yourself". We can all take that advice!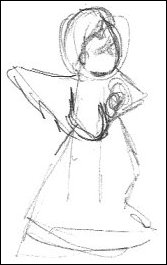 This method is similar to gesture drawing only scribbling has absolutely no rules.

The way to learn to draw is by drawing so we need to make every effort to be consistent.

---
Drawing Tip of the Month
The proper start for most ornamental drawings is a vertical line down the center - this helps to get the upright posture of the drawing.

When the left half of a drawing exactly corresponds to the right half drawing, (meaning one half is the reverse of the other), then the drawing is called symmetrical.

If it has a center line, but the two halves differ in details, then it is said to be balanced.

If you are right-handed, always start on the left side first because it helps you draw the mirror version on the right more efficiently. If you draw the right side first, then it is covered by the hand while doing the left and you have no reference. (Not to mention the smudging that would happen!) Do the reverse if you are naturally left-handed.

---
Handy Links
Here are some online drawing books that I bought for guidance. Each one offers valuable hints and tips that contributed towards my progress. They all have a hassle-free money-back guarantee if you decide they aren't to your taste.

If you have any drawing questions, please visit the frequently asked questions page to find answers.

We share a very economical hobby and this list of basic supplies shows everything you need to get started.

You are very welcome to connect with me through All About Drawings on Facebook.

Even if you have enjoyed the free drawing videos before, it's always a good idea to re-visit and hone those skills.

, thank you for taking the time out of your busy schedule to read this issue.

I wish you a very happy Christmas/Festive Season. I am so grateful that you are there for me.

Until next time, take care and I hope you have some precious creative moments!

from Kerry.

www.AllAboutDrawings.com
How To Sketch book with bonuses

"Don't cry because it's over, smile because it happened." - Dr Seuss


---