Extra Drawing Challenge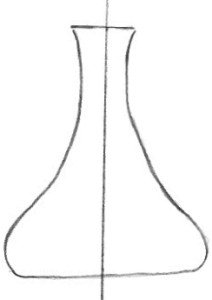 If you want to add a bit of spice to this observation exercise, you can try creating all symmetrical objects using both hands...
Draw the left side of a vase with the left hand and then draw the right side with the right hand, or vice versa, whichever is your preference.
Ambidextrous drawing co-ordinates the two hands, as well as the mind, so that they work together freely and harmoniously.
Through repetition, you gain skill, freedom and speed when you train yourself to draw with both hands.
The symmetrical drawing on the right is one of my early attempts which is not entirely correct in proportion but I know I will be able to achieve better images with each and every one I complete.
I thoroughly enjoy doing two-handed exercises but then again, I've yet to find a challenge that doesn't interest me due to all the hidden benefits.
You have nothing to lose by trying it out anyway.
Give the idea a chance to grow and perfect itself.
As a gift, I was given the very first version of this book by Betty Edwards and it is an excellent guide for all beginner artists.
It also contains similar exercises just like the one on this page because that is the whole focus of the book - to get your artistic brain motivated and into action.
I had the best time doing the exercises and they really gave me the confidence to continue drawing.
Make a mental note to re-read this book each year, it's amazing what you learn the second and third time around. The more I read it, it makes more sense and things just seem to fall into place.
The observation exercise may look easy but once you experiment with it, you will find it is challenging to draw and copy a mirror image. We don't really learn anything unless we challenge ourselves, do we?
The main objective is to enjoy the whole experience of this beautiful art form.