To help keep the young ones entertained, this recipe site has some great ideas plus fun to be had for everyone.
Comics
When I was young, I had a great love for comics. Actually, I used to enjoy re-creating comic book drawings way back then and I thought I achieved a good resemblance.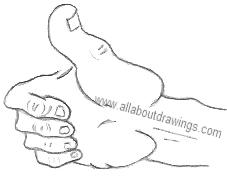 I recall thinking that I wasn't really an artist because I was only copying and not creating the images myself. Little did I know that is one way to learn how to draw and I should have kept going.
I am sure I learnt a lot about drawing from those old comics. After all, any practice is good practice.
I still read comic-strips for a laugh as well as keeping a look out for simple images to copy.
Here's a thumbs up for comics and cartoons!
Creating Styles
The old barn drawing was so easy to draw and it took no time at all. This example shows how to reduce subjects into a few simple lines and then easily convert them into a cartoony style.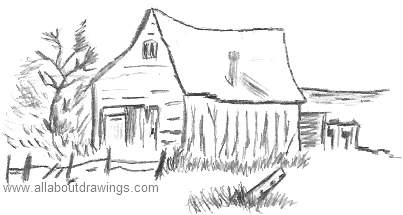 I saw this old shed in a book that I was flicking through, so I grabbed the nearest pencil and copied it as I was standing beside the table. I didn't want to lose the urge to draw it so there was no time to get comfortable!
It makes me feel great to see drawings like this emerge from my pencil -- it wasn't labored over, the feeling I had was more like freedom to see what happened.
If barns and old buildings appeal to you, here are some more old barn drawings for study purposes.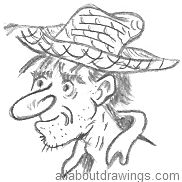 Use your imagination or look around you for ideas on what to include in your sketches. Keep reference pictures so you can mix and match different items within your artwork.
Now that we have a camera in our mobile phones, it's so easy to take a shot of anything that draws your attention. This way, you build your own library of things to draw or sketch at a later stage.
If anyone ever asks me how to start drawing, I always refer them to copying simple cartoown drawings.
There's no point freaking out about copyright rules when you are imitating other people's work because you have no intention to sell arnything at this early stage. As you grow and learn, you come to respect all original artists for their creations. You use this as your motivation to be just as creative and not an imitator.
If you have always wanted to produce some cartoon drawings, please give it a go - and just remember to keep it simple. Exaggerate the features, put in a few scribbly lines here and there, and you'll discover (just like I did) that you can do it, too!
We all dream of a job that we love so check out the jobs for artists on Jooble available in many locations around the world, as well as opportunities for remote work.