I had fun experimenting and doing some more castle artwork if you're interested in taking a look.
When I think back on medieval times, it appears to be shrouded in mystery so it's a great topic to research and find extra inspiration.
The Mystery Of Fantasia
I think more mystery is added when fantasy drawings are created in simple black and white. That's personal opinion because I am addicted to pencil drawing, so don't mind me.
Add a few squiggles here and there to give the appearance of objects or trees and just experiment with your pencil. This is where the fun comes in and it doesn't have to be exact.
These sketches were done quickly but it's entertaining working out what to put in the picture and how to draw a dragon.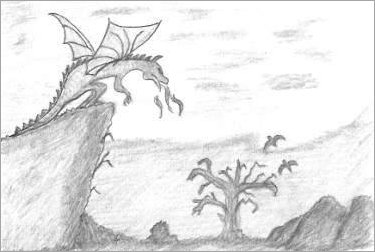 I decided to use a fairly bleak landscape for this picture.
The dragon scares anyone or anything away and the birds have decided not to hang around as well.
If you were asked to draw fantasy, what's the first thing that springs to your mind?
It's a good idea to write your ideas down so you can implement them in future sketches. It is amazing how fast ideas can come and go from our minds!
All of these examples were created in my first year of drawing and while they are not fantastic, it shows you that anything is possible if you just try!
I use a mechanical pencil and I mostly use photocopy paper for all experimental work so I don't have any worries about ruining a good sketchbook.
Want Some More Ideas?
Fantasy Art School - Visit Will's site to find step-by step instructions and tutorials to draw imaginary figures, characters, and scenes.