The Simplicity Of Sketching Flowers
Most of us love flowers for their shape, color, fragrance and beauty. We use them to express our feelings, and that is why we place flowers on the graves of our loved ones.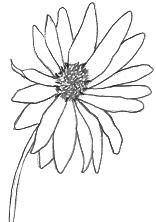 At weddings they symbolize love, faithfulness and long life. We also use them for decorating whether they be fresh or designed on a canvas.
Always remember to start with something that looks relatively easy.
Flower drawings are not only simple - they are attractive to the eye as well!
Here is an easy outline for you to copy and add in any details you wish to see.
Just sketch in the general shape of each petal, it doesn't have to be exactly the same as mine.
Watch your flower drawing take on a life of its own and you are certain to fall in love with this hobby!
Some Trivia
Before you commence doing some flower drawings, it's always handy to have some background knowledge of your subject before you attempt to portray it.
A flower is a blossom or a plant that is known to blossom. Flowering plants have soft stems rather than woody stems. Trees can flower but they are not referred to as flowers. Blossoms provide the seeds for us to cultivate more.
The flower consists of four parts. The calyx, the corolla, the stamens and the pistils.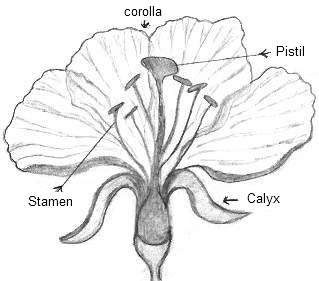 The calyx (sepals) protect the developing inner parts. Most of the time, the sepals stay attached after it opens.
The corolla consists of a flower's petals. They have various colors and a perfume.
The stamens are the male pollen-producing parts. They can be the most attractive part of certain flowers.
The pistils are the female seed-bearing parts. Each pistil has three parts, a stigma, a style and an ovary.
The stigma is the sticky area at the top. The style is a long slender tube that leads to the ovary which is a hollow structure at the base.
Let's Draw!
So now you possess good general knowledge of your topic, it's time to try your hand at flower drawings.
If you're interested in developing your pencil skills, start by copying very simple topics. Every little bit you do contributes to your overall progress.
I like to keep a reference folder of pictures that give me inspiration and they look easy enough for me to achieve a good resemblance.
You can find numerous outlines throughout this website so stick with me and we'll become hobby artists together, ok?
When you are learning and practicing, try not to worry too much about adding color at this early stage.
Maybe if you really love your sketch, keep it separate so you can add color later. It is more important to acquire confidence now, so simplifying all tasks is critical.
Take notice of the 'quiet' within you when you start drawing because that is one of the things that I love the most and I don't want you to miss that feeling.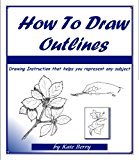 Did you know?
You now have access to art books on Kindle for a fraction of the price you see in bookstores!
What's more, you can get a free kindle reader for any device. Thank you, Amazon.
Sometimes there are valuable books for a very low price, just like this book about drawing outlines. The best value EVER, so don't delay and grab your copy today!