Search for images or info
Nature Drawings

These nature drawings are done in their simplest form, so you can discover yourself how easy they are to draw as you create an imitation of each one.
Using basic lines helps to uncomplicate the process and you soon become familiar with seeing and copying various subjects.
If you practice with simple drawings first, it saves you from becoming impatient and possibly quitting the hobby - that is not what I want for you! Copy the basic line drawings here and you get to see results straight away.
I am happy because I drew these sketches in a very short amount of time.
It is very possible to teach yourself to draw and it's probably way better than an art class where you are required to do drawings that don't interest you.
Add a dash of imagination to your next nature drawing and have some fun.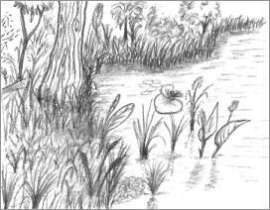 Although the above illustration looks busy and complicated, it is actually made up of simple lines, squiggles and strokes. I just jumbled everything together and this sketch is the result.
When you study the landscape outdoors, take notice that you will never see a true straight line -- it is only man who makes things mathematically exact.
What Is Nature?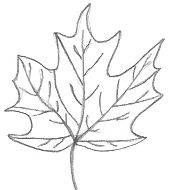 Nature is everything that is not man-made and it encompasses the universe.
To get back to nature, a lot of people go hiking to observe animal life, admire the wild flowers and different types of plants.
City dwellers visit parks, garden and zoos.
The artist in you will call out to put these little memories on paper.
Framed landscape-type pictures always look enchanting on any wall. (When you gift your artwork to someone special, it has more meaning than anything store bought.)

Copy the simple outlines on this page to create a nice collection of black and white nature drawings.
The natural wonders of Earth provide every artist with great material for sketching, right down to a tuft of grass!