Free Drawing Program #2
Irfanview
I use an image program called Irfanview and I love it, a lot!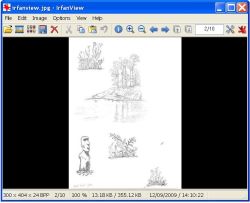 This was my very first image program and it is so easy to learn and use.
Use Irfanview to reduce the size of your drawings or photos or add text over your images, really, there's heaps of things that you can do.
It's a good program to start with because it shows you the basics of how most image programs operate, with no huge learning curve. You can move on to more sophisticated programs when you are ready.
There are numerous sites with Irfanview tutorials, and each one shows different features. If you don't find your answers on that linked page, you only need to do a search for "Irfanview Tutorials" with your favorite Search Engine.
Once you download Irfanview, play with it for a while to become familiar with it.
For further assistance, there is also a Frequently Asked Questions page on their site.
Free Drawing Program #3
Paint.net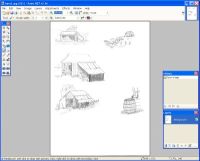 Click here to get Paint.net.
Look for the free download link (at time of writing it's on the top right) or you can choose to buy it as a way of making a donation. Be careful NOT to click on ads with the words "start download" or "get started" - these types of ads are a bit deceiving on a download page.
Again, this is an easy program to use once you get the hang of it and I use it frequently.
It's exciting to learn how to use all the features and it only takes a little bit of adventure on your part.
After you download it and you need some help, just scroll down on their home page to find links to tutorials and frequently asked questions. Youtube also has good videos to help you out with any problems you might experience.
Play with it and see what you can do!
Just because these are free drawing programs, it doesn't mean they aren't good quality. On the contrary, they pretty much do everything.
Free Drawing Program #4
Microsoft Paint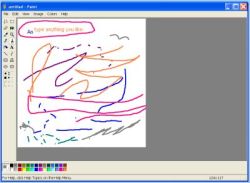 Paint (formerly Paintbrush for Windows) is a simple graphics painting program that has been included with all versions of Microsoft Windows.
It is often referred to as MS Paint or Microsoft Paint.
To access it on your computer, click on "Start", -"All Programs", -"Accessories" and you will see "Paint" listed there.
My granddaughter loves this program, at 4 years old it kept her occupied for ages. She selects a brush and a color and she has a lovely time creating designs on the canvas. If you are ever stuck for ideas on what to do when you babysit, remember this program!
All you do is click on the symbols on the left and then click as you move your cursor on the page. It'll show you what each icon (or symbol) does.
Practicing with this particular software is advantageous if ever you decide to buy a drawing tablet.
Some of the other free drawing programs also have the facility to sketch or draw lines on a canvas.
Free Drawing Program #5
Gimp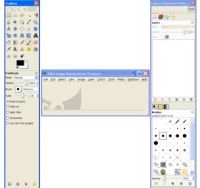 I haven't had much time to play with this program, but it is very good and also popular.
If you want to download Gimp, look for the "Download" button, at the top of their page.
Here is the link to Gimp tutorials for beginners, intermediate and experts.
These tutorials will show you everything this program is capable of doing.
It really is remarkable and so awesome that it is free.
Free Drawing Program #6
Artweaver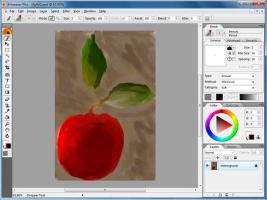 I have yet to use Artweaver but I've heard it's a good paint and photo program.
Just to name a couple of the features I've read about, the friendly interface guides you as you go along plus there's a wide selection of brush strokes to choose from, depending on the type of image you want to create.
There is a free version and a paid version so when you visit the Artweaver website, click on the button to download Artweaver Free.
The free version will do most things and it's a valuable teaching tool while having fun at the same time. You've got nothing to lose and everything to gain.
In Appreciation
Thank you very much to all of the generous people who make these fantastic free drawing programs available to us.