Search for images or info
Learn To Draw Book
If you want step-by-step learn to draw instructions, this is a really good book to kick-start the amazing adventure that drawing offers.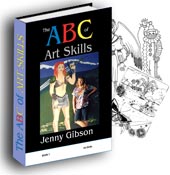 I thought ABC You Can Draw was very good value.
I bought the book, not only for my own benefit, but so I could give you an honest opinion about it. I don't like to offer suggestions on purchases unless I've done my own research first.
At first glance, I knew I was going to love it.
I could tell Author Jenny Gibson truly wants us to succeed with drawing and it's obvious she has our best interests at heart.
This review took me longer than expected because I became involved in doing the exercises she suggests. That was a good sign, besides I really wanted to see for myself the kind of results Jenny was anticipating. I was intrigued and excited by her forecast judgment.
The book focuses on the basic steps of learning to draw and you soon realize it's all completely achievable.
** Disclaimer: I receive a small commission if you buy via my links -- at no extra cost to you. **
My favorite part was being privy to the special tchniques that Jenny shares only in this book. I definitely learned many important tips that I can use for a lifetime.
Distinctive points are acknowledged as follows:
It's a necessity to always learn something new from any drawing book I pick up.
Jenny shares some proven recipes for success and who doesn't want that?
Jenny encourages you to develop your own technique and you're also shown how to achieve this.
In the very beginning, Jenny reveals something that I hadn't thought of before and I realized right then that it was a really good idea. If you learn to draw using this tactic, you'll be sure to learn it properly!
She managed to get me motivated and this is just what I need! Motivation is a key ingredient when you learn to draw so she does a good job, right there.
There are some very good bonuses that come with the purchase of this book, with the first bonus being her next book. Yes, 2 books for the price of 1! The second one continues on from the first, to teach you all about linear perspective and 3D drawing. We all need to conquer these techniques and you will be shown how, step by step.
Colors are explored and guides are provided for using them in perspective. I'm not interested in colors right now but I'm happy to have this information in my possession, waiting for the time I need it.
This second book was written for you to attack once you are ready to move on from the first one, just the thing for anyone who is impatient and wants to experiment with everything.
The whole learn to draw package is very useful for beginners and experienced artists alike. I know I found value in it.
The reason I am recommending ABC You Can Draw is because it explains things to you that I can't. Author Jenny Gibson is an experienced trainer and professional illustrator of many years.
My website, allaboutdrawings.com, is designed to encourage and inspire you to draw. The ABC You Can Draw book picks up from there quite nicely.
This site definitely goes with that book!