Search for images or info
Your Car Drawings
Here are your very own car drawings from guest artists of all ages and range from experienced to inexperienced.
You will find a good variety of vehicle drawings on these pages and all of them are worth viewing.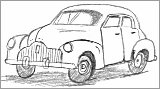 It is amazing what you can learn by studying other artists' work.
Along the way, you are also privy to some very important hints from any artist whose work you might be admiring.
Most of the guest artists here unselfishly share what they know in order to help other beginner artists improve and that is an important trait to have.
This drawing of a vintage car was sent in by Martin from Dubai.
Martin requested feedback on how to improve his drawing and instead he received some encouraging comments, no one wanted him to change a thing!
I love the sketchy feel of his drawing.
Click here to see more drawings of old cars.
I bought a terrific online ebook which showed me how to draw the perfect car. Most car drawings require the use of perspective lines to accomplish decent images so I figured I needed a little boost of extra help in that area. I found it really helpful and just what I needed to advance my skills.
I am sorry to say that guest drawings are no longer being uploaded to this website but you're still welcome to share your work on the All About Drawings Facebook page.
I feel very sad that it's come to an end and I do apologize for any disappointment you may experience.
There is a bright side, though! All previous drawings that were shared by wonderful guest artists are still available for your perusal and pleasure. I hope you enjoy them.