Search for images or info
Cool Car Drawings
When I decided to create some cool car drawings, I didn't realize how much concentration was involved. That's another thing I love about this hobby, it's full of surprises and sure keeps me on my toes!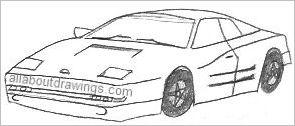 I need a lot more practice but I'm happy to admit and accept that.
I notice that my first effort with this sporty model is in need of a little more work, so it's back to the practice board for me.
Perspective comes into play here because the subject is viewed from an angle.
For anyone beginning to draw, I suggest going with a straight side-on view which eliminates most of the tricky perspective. The pick-up truck below was much easier to produce for that very reason.
So far, I haven't practiced much with perspective because it is quite daunting as a beginner artist. I am content to wait until it starts to make more sense in good time.
It's obvious to see that I haven't used a ruler in any of these images but it doesn't matter if you prefer to use one, always go with whatever works best for you.

Helpful Hints
Make sure you are comfortable when you draw.
Try to move only your eyes and not your head when you move between the picture and your paper.
Spend more time studying the picture you are copying rather than focusing too much on your work.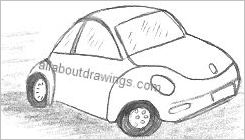 I confess that I have done a terrible job on the tyres of the VW but I'm going to pretend the general drawing is acceptable. I will get around to doing another one, one of these days!
I show it here because it's not a bad thing to have failures. This is how we learn what not to do next time.
On the main car drawings page, you'll see my very first illustration of an old model VW.
This one here is a 2003 model and it has the same cute shape that we are familiar with.