History of Cars
When you learn to draw, you really start to see things for the first time - well, so it seems.
Along with seeing differently, you actually learn all sorts of interesting stuff as you study your next selected topic. That's the reason why I like to give a little bit of history as we go along...
We started off with a steam car, then electric and finally these 2 modes were replaced by gasoline.
The modern motor car has come a long way from those early hand made models that only rich people could afford. Thank goodness, I just couldn't imagine myself getting around on a horse!

Here is a drawing of a 1947 Lincoln Cabriolet.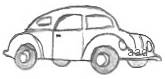 The Lincoln and the VW were the largest selling imported vehicles.
A VW is affectionately known as 'the beetle' or a 'veedub'.
Mass production has meant we can afford to run a car now that it's organized on an assembly-line basis.
The fact that most of us now own vehicles has brought about a whole new way of life with motorways and motels to make our trips easier.

Car racing is a thrilling sport that tests the speed and performance of a vehicle plus the skill and daring of drivers.
A Formula One vehicle has one seat, rear engine, front and rear wings and no roof or fenders.
While you may not be particularly interested in that information right now, it does come in handy should you ever want to draw a racing car.
Avoid Frustration
Learning to draw can be exasperating at times but when you draw something really spectacular, you forget about all your failures.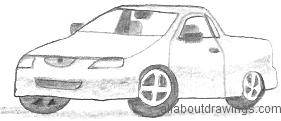 And you will have failures, every artist does.
Keep the mindset that you don't expect perfection from yourself and you'll never be disappointed.
These drawings were a triumph to me because I didn't think I could draw a stick figure let alone something that resembled a car!
You are welcome to use the simple outlines on this page to help you create some original vehicles.
It doesn't matter if you like to copy directly onto paper or whether you like to trace. Either way, you are learning and improving your car drawing skills.
It's a good idea to look at your car drawing the next day to pick up any errors that you don't notice while you're involved in the creation.
If car drawings are your passion, your progress relies on good instruction like in this book on how to draw cars.