Search for images or info
Drawings of Vines
These illustrations show my interpretation of different drawings of vines.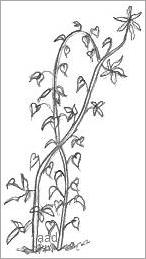 I set out to attempt a simple outline and this is the diagram that emerged from that task.
Whenever I draw from nature, I don't even try to represent every single bend and curve in the stems, it's not really possible. You will do well just aiming for the general shape of the plant you are copying.
This is a wonderful subject to illustrate because your version will look like the real thing, it won't matter if you don't have it exactly as it appears.
Here is a little bit of information so you can distinguish between a vine and other plant forms...
A vine is a plant that has a weak and flexible stem.
Shoots that are called laterals grow from the woody limb. Fruit and leaves grow on the laterals.
The image of a grape vine (just below) is an example of the main limb without leaves and the underlying shape of how it tends to grow.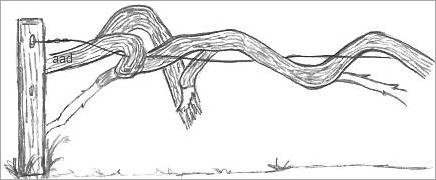 Grapes are a fruit that grow on a woody vine supported by a wire trellis.
Stakes are driven into the ground at regular intervals and wire is commonly used to support the plants. The number of rows of wire depends on how tall the plants become.
Some vines provide their own 'claws' and can cling to walls or other surfaces. Other vines can crawl along the ground.
There are two kinds of vines, woody vines and herbaceous vines. Vines can also be called creepers.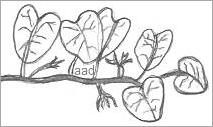 Herbaceous vines or vine crops include choko, cucumber, peas and beans, marrow, squash, melons and pumpkin.
This is a drawing of a squash vine which grows along the ground.
Quickly grab a pencil and have a go at copying this simple sketch.
I am sure you will be able to replicate it successfully. Remember, your rendition doesn't have to be exactly the same.
This is how you get addicted to drawing because you soon realize how easy it really is!