Search for images or info
Grid Drawing
I must admit, grid drawing wasn't something I tried when I first started to draw. My sister kindly made a transparent grid for me but I didn't get around to using it for a long time.
Once I made the commitment to trial it, I was ecstatic with the results. So, I've been experimenting ever since and I just have to show you this option that can help speed up your drawing progress.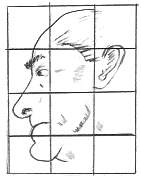 Oh man, have I had fun with this!
I have been practicing portrait drawing for quite a while now but progress was slow. I realize now that grid drawing will really help me improve dramatically when it comes to drawing faces and such.
I was surprised to learn that many established artists use grids, especially for portraits, to help them achieve a good resemblance.
At first, I was a little disappointed because I thought there must have been a secret way to successfully draw faces freehand but maybe that's not true. If there is, I haven't found out about it yet!
I guess the decision to use grids is up to the individual artist and whatever gives them the best results.
Anyway, I discovered that grid drawing is especially good for trainee artists because it makes you concentrate more on the direction of lines and how they are placed in relation to each other. It's all a part of the learning curve.
How To Draw A Grid
Let's say you want to make a grid with 1 inch squares.
Make sure the picture you want to copy is very clear so that you can do the exercise properly.
It's ok to rule guidelines directly onto a picture or photo but it's a good idea to do this on a second copy. That way, you don't ruin the original because you might need to refer back to it later, without the distraction of guide lines.
1. On the reference picture, mark the border (4 sides) with dots at every inch.
IMPORTANT: Try to be as accurate as you can!
2. Count the number of dots on opposite sides (i.e., top and bottom, then left and right) and make sure there are the same number of dots on those opposing sides.
3. Use a ruler to insert equally spaced lines between matching dots. You should now have a grid over your reference picture.
Ok, so that is the first part of the project finalized.
4. Next, get a sheet of blank paper and draw the border to the exact same dimensions as the picture you are copying.
Use a B pencil and do the lines lightly, so they erase easily. Mark the dots (every inch) along the borders of this second grid and again make sure they are accurate.
Handy Tip:
If you want to enlarge the picture, double measurements on the grid you draw up, including the border dimensions, and use 2 inch squares.
If you want to have an image half the size, use 1/2 inch squares on your paper.
There must be the same number of squares - regardless of re-sizing - the system won't work otherwise.