Search for images or info
What Is Negative Space?
Negative space describes the empty area that surrounds an object. It is also known as the background.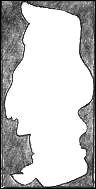 If you struggle to understand this concept, the examples here may help to clarify that statement further.
A simple pencil outline of a dwarf is depicted on the left.
In the image on the right, the external (or negative) area has been darkened.
A positive drawing is the object. A negative drawing is the space around the object.
I sometimes use this area as an alternative for extra assistance when I'm having trouble with a particular subject that I'm trying to draw.
On occasion, it's easier to identify with an odd shape than it is to correctly get the outline of a specific object so if you make use both negative and positive spaces, illustrations evolve naturally.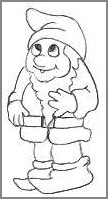 After all, a drawing is nothing without the space around it, they go hand in hand with each other.
The left side of the brain is always thinking and naming everything you depict. The right side of the brain is your creative base and doesn't require any type of information -- it identifies all things as shapes and tones.
Are you ready to do an exercise with me?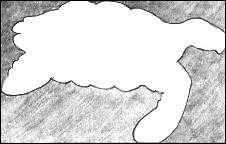 You really need a border around your drawings so you can easily identify the space. So, the first thing you need to do is to rule up a border on a piece of paper.
Use the turtle image above as your copying subject/reference so try to keep the border to similar dimensions.
Remember, you only need to concentrate on and copy the outline of gray area only. If you do it right, you should end up with a turtle shape (without even trying!).
I copied around the gray shapes and estimated where the lines met each border line. For my own benefit, I finished the drawing off by adding a few minor details. The turtle outline below is what I finished up with.