Search for images or info
Drawings of Ravens
Pick up your pencil and start creating some drawings of ravens today. If you have never done a raven drawing before, the best place to begin is by copying an outline like the one provided below.
I drew this outline and all the images displayed here after one year of teaching myself to draw. The more you practice, the better you become, so I have grand aspirations of improving even more on this current style.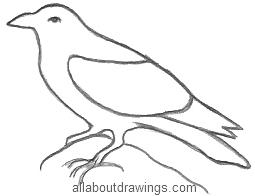 It also depends on how much time you can devote to drawing and this is a stumbling block for most of us. I always worry that I will lose ground with my progression when I don't practice consistently but I usually pick up where I left off without too much drama. Don't let time shortage deter you, just draw whenever you're able because you can derive just as much pleasure in short spurts!
What Is A Raven?
In order to achieve a good resemblance with your drawings of ravens, you need to know a bit about the subject.
If you believe in myths and legends, ravens are said to be magical birds so keep that interesting fact in mind while you draw because it helps wake up the creative artist inside of you.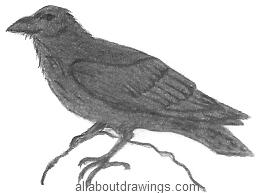 A raven is a bird that belongs to the crow family. I think we all worked that one out!
What is the difference between a raven and a crow?
There are some minor differences between the two birds so you need to know these little details.
A raven is bigger than a crow.
It has a larger beak and it's tail is wedge shaped whereas a crow's tail goes straight across.
A raven's wings can span three feet wide.
Both birds have strong bills and are very loud and vocal.
Ravens are black, but...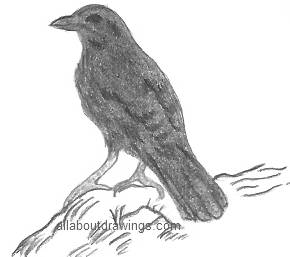 ...the feathers have a purple sheen, on the belly there is a dull green tinge and also there's a bit of grey around the neck.
So when you do drawings of ravens and you wish to color them, remember to include purple, green and grey.
We describe people with unusually dark, shiny black hair as having raven hair.
Because the raven is black, it is thought to bring bad luck.
Ravens are not popular because they eat young birds or the eggs. However, they do consume lots of insects and pests which ultimately helps our farmers.