Search for images or info
Eagle Pencil Drawings
With these eagle pencil drawings, my aim was to try and illustrate the freedom and power that this bird emanates. We say that eagles represent those two things because of the way they soar gracefully, high up in the air.
Try copying this eagle drawing outline and see for yourself that it is achievable. I started by drawing the wing and the rest just fell into place.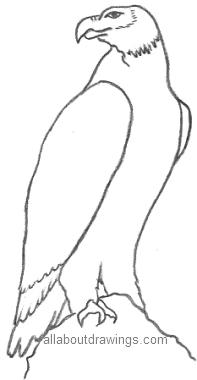 Remember that you draw the details in last, after you are well and truly satisfied with your outline.
Practice doing the feathers on his body. It takes a bit of patience but if you fiddle with it you can get very realistic eagle drawings. Oh, and don't forget to keep your eraser handy!
This is the sketch I completed after copying the outline and adding in my own details. I confess I was a little bit short of time so I didn't really get the best look happening for the feathers.
As you practice drawing the eagle outline, you eventually get the feel of contours and shape.
I think the feathers around the neck are its most distinguishing feature so with time permitting, that makes a great focal point in your artwork.
I gave myself the assignment to quickly sketch some eagle pencil drawings and I thought they came out pretty good for someone just starting out as a hobby artist.
That proves it's not a hard subject - well, it's not the easiest, but not the hardest either.
Learn More About Eagles
Eagles are large birds of prey and they are one of the largest and most powerful birds in the world.
Up close, eagles look fierce and proud. We know for a fact that they don't like humans so we don't get a chance to study them closely.
The bald eagle has white feathers on his head and is not really bald, the white just makes him look bald.
An eagle's nest is called an eyrie. A female only lays two eggs a year and it is unusual for both eaglets to survive. The older eaglet takes most of the food and attacks the smaller one and may kill it.
Eagles hunt only in the daytime and their prey consists of rabbits, hares, squirrels and birds.