Search for images or info
Your Bird Drawings
Your bird drawings were so spectacular that they earned the right to have this whole section dedicated to them.
If you have a great interest in drawing birds, our guest artists share some interesting drawing tips and show how to achieve fine effects with a pencil. Click to go straight to visitor's drawings.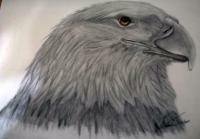 On the left is an eagle drawing done by a guest artist, Michelle from Canada.
Michelle was a regular artist on this site and she submitted some amazing work.
Michelle taught herself to draw in the vicinity of 2008 and most of the drawings that she shared were achieved within two years from that date.
The facility to upload your drawings is no longer available and I'm sorry if you are affected by this.
The good news is that you are very welcome to share your work on the All About Drawings Facebook page -- I hope to see you there!
Thanks to everyone who unselfishly shared their unique drawings as well as helping other artists achieve their goals.
Even though you can no longer show your latest drawings here, all the pre-existing artwork is still on display.
To create bird drawings, it sometimes help to visualize the bodies of birds as an oval shape.
Along with the oval body, you can also use a smaller circle or oval for the head, if it suits you. The addition of a tail, beak, eye and legs then gives a general representation of a bird.
It's a good idea to study birds and recognize that they have distinctive features. To give an example, birds of prey are characterised by their hooked beaks and powerful wings. These little observations make a difference to your creation and help you achieve a good likeness.
This is a good place to learn a thing or two from artists who have traveled the road you are about to take, so make yourself at home and enjoy your browsing time here with us.