Drawing Birds
Each artist uses a different method to draw. For me, I like to copy freehand but if a subject looks a bit tougher, I'm not too proud to use something like the measure and mark method to help me along.
In my early drawing days, it took me three attempts to produce this pelican drawing.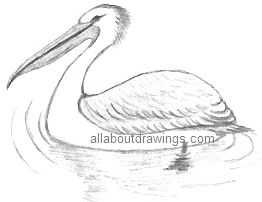 It was an interesting exercise so I'll share what happened.
I was happy with the first one I drew and I couldn't see anything wrong with it until I drew a second one.
I realized I hadn't examined the reference picture properly so it was a matter of looking closer to improve the second time around.
When I drew a third pelican, I realized the neck still wasn't right in the 2nd one, even though I was quite pleased with it.
It was a great learning experience so when you have the time, practice this repetitive action and you come to know what to look for when comparing a reference picture to your sketch.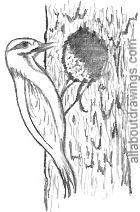 Here is a busy woodpecker making a hole for his nest in a dead tree.
He thoughtfully uses the wood chips for lining.
There are lots of different types of nests for every bird variety.
I was able to complete this sketch in my first year of being a hobby artist. It is amazing what such an accomplishment does for your self confidence!
I was just starting to tinker with adding effects and more detail so I applied stippling to the hole to give the perception of 'pecking'.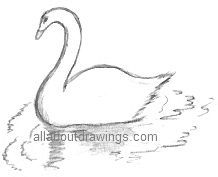 This drawing of a swan is very basic and perfect for beginner artist practice.
The water and reflection are simple pencil marks that tell a story and make the image more credible.
Swans are graceful waterbirds and their long neck comes in handy for them to feed on underwater plants.
See how you go copying this swan by simple observation. For some assistance, just mark the height and width on your paper. I have every confidence you can produce good bird drawings.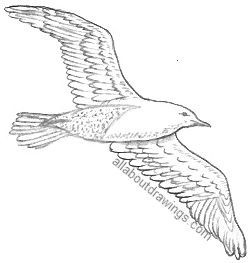 I thought there would be some degree of difficulty with bird drawing but I was quite mistaken, there weren't any that frustrated me to the point of distraction.
Most of these I drew while sitting in a comfortable lounge chair with a sketchbook on my lap.
I realize I still have a long way to go in learning to draw but so far it's been very enjoyable and I have some nice illustrations. I hope you are getting a good collection together as well.
I really like this seagull drawing, I used stippling for extra effect and it only took a short time to produce.