Search for images or info
Your Cartoon Drawings
Here is an incredible range of different cartoon drawings which were shared here by guest artists to this website.
Click here to view your cartoony artwork or simply scroll towards the bottom of the page to find the links there.
Pencil drawings of cartoons are easy for a beginner artist to achieve and are surely the most popular type of drawing we love to do.
There is a wide range of cartoons here, from Manga drawings to comic book characters and everything in between. My visitors' imaginations seemed endless.
I am sorry to say that the opportunity to send in your drawings to this website is no longer available.
Instead, join us over at the All About Drawings Facebook page where we still share our drawings and latest news.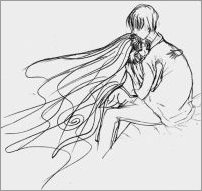 It was fantastic to see artists of all ages overcome any shyness that they felt to share their artwork here. They certainly earned my admiration!
Kitty from Romania drew this lovely manga cartoon and this drawing style is certainly Kitty's specialty.
Kitty also wrote some beautiful stories about her drawings and it was plain to see that they came right from her heart.
You can see more of Kitty's manga drawings below or click here to go straight to a page now.
Please make yourself comfortable and have a good browse through the wonderful variety of cartoons on display (links further down the page).