Search for images or info
Drawings of Cartoon Tigers
In these drawings of cartoon tigers, I tried to portray this jungle character as a friendly chap, to show you that can do whatever you like when you are drawing cartoons.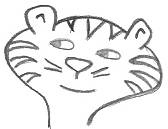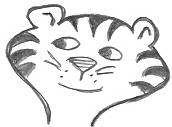 I like to provide a simple outline of a basic cartoon tiger drawing so you can copy it successfully.
It's so simple that you can draw this cartoon tiger, right?
I think it resembles the shape of a light bulb with ears and a face!
Remember with cartoons that all features are exaggerated and you can add lumps and bumps to the body and get away with it - like you intended it to be that way.
This tiger below looks more like a rabbit to me but the stripes tell you it's a tiger! He's also driving a crazy looking car.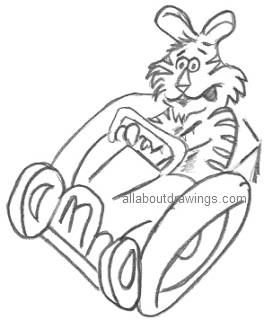 Information About Real Tigers
You need general information about tigers to be able to properly illustrate them in cartoon form.
A tiger's coat is brownish-yellow to a burnt orange color and is marked with black stripes.
On real tigers, the stripes look quite neat and ordered but on a cartoon tiger we can put the stripes anywhere and anyhow we please.
There is longer hair around a tiger's face. On male tigers there is more hair than the female. Still, the tiger does not have as much hair as a male lion.
Their bodies are quite similar though, due to the fact that both are members of the cat family.