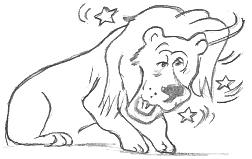 I decided to have a bit of fun in this cartoon lion drawing.
Unfortunately for him, he received a hit on the head so I added some stars and curved strokes to indicate his dizziness. These extra lines give the viewer the impression of what has happened, without words.
These are called action lines.
Experiment and play with these marks - you don't need many to get the effect that you wish to convey.

Just for more ideas, here are some animated bugs.

I recognize one as being a cartoon caterpillar.
The other bug is a bit of an enigma which is quite common in a cartoon world. He's just a strange insect!
Start Simple With Animal Cartoon Drawings
Comics add humor to any situation, whether it be politics or general life.
Draw some wild lines that can transform themselves into people and all sorts of things. You'll be amazed at how simple and easy it is.
I'm always going through books to find unembellished pictures and I use my intuition to determine whether I can sketch something quickly since I'm always skating on time :). I was happy to find this cheeky looking horse, it was exactly what I wanted to add to my practice pages!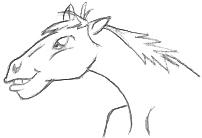 I quite like this dude.
He might look complex but, if you copy it, you will discover he is really very easy to draw. I should know, I did it and no one was more surprised than me!
These pencil sketches were quick and easy, especially with the aid of my favorite mechanical pencil.
I often prefer to use plain photocopying paper for a lot of my sketches.
So do yourself a favor and don't try to be a perfectionist, just relax and enjoy the whole process of cartooning by experimenting with the animal cartoon drawings shown here. This is the exact process I used to become familiar with my pencils and to find the paper I preferred.
Have fun, experiment, and most of all, keep practicing!