Search for images or info
Animal Cartoon Drawings
To become skilled at creating animal cartoon drawings, the best idea is to practice as much as you can in your spare time.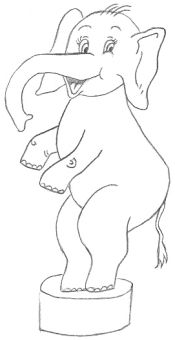 Some options are:
use tracing to work out where to add lines
copy from others to learn and improve
slightly change their styles to create your own
I also find visualizing and converting images to basic shapes helps me while I practice.
In the art of cartooning, it is appropriate to have the minimum amount of lines possible. The fewer you use, the better.
Sketch in your starting outline lightly and keep going over it until you get the shape right.
You can leave the incorrect strokes in until you decide the drawing is finished.
I am a neat freak so I tend to remove stray markings from my illustrations.
Cartooning Tips
I still perceive myself as a student but I'm willing to share all I know so it's gives you a good grounding when you start.
When I'm drawing comic-like animals, I use my lack of skills to my advantage because animal cartoon drawings don't have to be perfect! Animated characters can be what you want them to be and I think this is great for all beginners.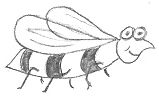 You can have a lot of fun with bees.
A starting point with animation is to pinpoint the main characteristics of each subject.
So, the main features of a cartoon bee are his pointed tail and the stripes.
So long as you remember to include the distinguishing pecularities of your subject, you will create a successful rendering. The rest of the bee is up to your imagination to exaggerate whatever you like.
Did you know?
You now have access to art books on Kindle for a fraction of the price you see in bookstores!
Here is the link for a free kindle reader.
Sometimes there are valuable books for a Very low price, just like this book about drawing outlines
. Grab your copy today!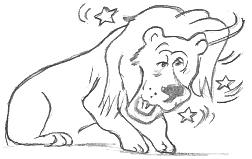 I decided to have a bit of fun in this cartoon lion drawing.
Unfortunately for him, he received a hit on the head so I added some stars and curved strokes to indicate his dizziness. These extra lines give the viewer the impression of what has happened, without words.
These are called action lines.
Experiment and play with these marks - you don't need many to get the effect that you wish to convey.