Search for images or info
Mermaid Drawings
These mermaid drawings were a pleasure to produce even though I still have a lot to learn in regard to any type of portrait or anatomy drawing.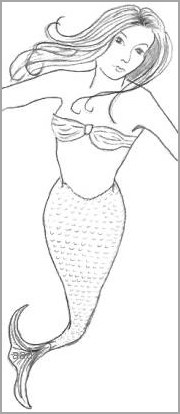 My mission was to design a mermaid outline and I did this when I had been drawing for almost 12 months. As the saying goes, "nothing ventured, nothing gained".
As I've admitted to you before, I haven't quite perfected illustrating the human form yet, so I knew I had my work cut out for me here.
By the same token, it's exciting to end up with a drawing that resembles the subject at hand.
I did a bit of research to get ideas on very basic facial features.
Study the face of this mermaid and observe how to portray a face without really having to know everything. This is what us beginners need to do so we can draw anything we set our minds to.
I did lots of drawings of mermaids in outline form because I was trying to get the body proportions right.
This task can be very frustrating if you allow it to be, but remember that you don't have to show anyone your starter sketches.
Figure drawing becomes easier to understand as you get further into your learning. It depends on which subject you really wish to conquer and a strong desire will get you there.
You can draw sketchy lines to indicate the posture and the curves of the body and then build the drawing around these lines.
Of course, if you prefer, you can use the blocks and cylinders method - there are many tools available to assist getting the figure right. You will discover all different methods as you browse this site.
I hope you find these mermaid drawings are simple enough to inspire you and enjoy the pleasure of copying them.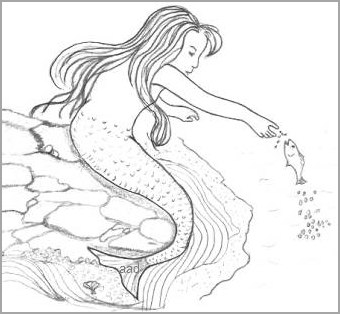 I have added a tiny bit of background to a couple of my images to lead you in the direction of creating different surroundings. It might help to make up a story for further inspiration.
Fantasy is not my strong point but I decided to challenge myself to see if I can produce some reasonable mermaid drawings.
About Mermaids
A mermaid is a mythical creature that lives in the sea.
Their bodies are half human and half fish.