Fantasy is not my strong point but I decided to challenge myself to see if I can produce some reasonable mermaid drawings.
About Mermaids
A mermaid is a mythical creature that lives in the sea.
Their bodies are half human and half fish.
Mermaids are said to be beautiful and they try to lure men with their melodious voices and lovely hair.
Sailors had to avert their faces so the mermaids wouldn't lure them and their boats onto the rocks.
Mermen also existed apparently. I have to admit, I didn't come across any mention of mermen while I was growing up. However, I always did have a fascination for mermaids.
References to mermaids can be found in poetry or movies and there are some beautiful drawings of mermaids as well.
How To Improve Your Drawings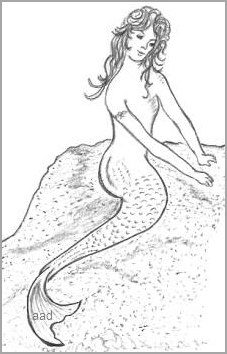 Do you have your own sketchbook? By sketching consistently, you will improve all the time.
I have a favorite mechanical pencil and I use it for a good majority of my drawings, including all images on this page.
Even when you are in front of the television, practice drawing anything and everything on the screen. When you record shows, you can pause the scenes that appeal to you and then try roughly sketching it in your book.
I also spend a lot of time scrutinizing profiles on tv but that's just a habit of mine because I'm trying to work out how to draw people in an easy way.
If you start observing and practicing, you will successfully master mermaid drawings and anything else for that matter.
Avoid making excuses for yourself by thinking that you weren't born with an artistic streak. If you have a desire to draw (like I do), you will be able to draw. All it takes is persistence, faith and practice.
You will progressively improve with each and every drawing that you do. I know I've made that statement a million times but it's so true!
Even when my drawings aren't very good, it doesn't deter me, I just move on to another subject and draw until I achieve satisfaction. This is the mindset you need to have if you want to succeed.
"Never say die" is a good motto to remember. Just have fun and keep drawing!