Wizard Drawings
Here are some easy wizard drawings which were done with pencil and shouldn't be too hard to copy.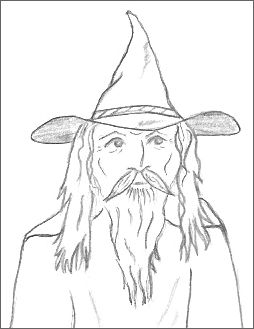 Of course, it does depend on how confident you are and what stage you are up to with your learning to draw experience.
When you experiment with all different subjects, you discover new things about yourself so get your pencils out and try copying this very basic wizard drawing.
I think if you really want to get into drawing wizards, just do the top half of a wizard to start with. Once you get the hang of it, then you can move on to drawing the whole form.
My finished drawing surprised me because I have only been drawing for just over one year and I wasn't really expecting a good reproduction.
Drawing the human form is something that needs further study - apparently it is fairly straightforward once you learn more about it. I must be improving though, I didn't struggle as much with his face.
What do you expect to see when you search for a wizard drawing?

Hmmm, let's see, I think I need a drawing of a crystal ball.

Oh dear, I realize now that it's not so easy to draw a perfect circle!
You can buy a plastic template that has all different sized circles but I don't have one of those yet, so pardon the lumps!

I was really surprised to read quite a few artists use these circle templates to assist them with drawing eyes and irises. So, it's obviously ok for you to use them for anything.
I know it is a really good exercise to continuously draw circles - large and small - as this helps with control of the pencil. Once you can draw a perfect circle there won't be many other things you cannot do.
This drawing of a wizard is copied from a figurine ornament that I have at home.
He is holding a crystal ball but while I was researching wizards, there was not much mention of a connection between wizards and crystal balls. I guess it is one of the tools they utilize.
I was very hesitant to try my hand at copying a small statue because at this stage I have not attempted much drawing from life. While it is not a professional-looking drawing, I am pleased and proud of my version.
The lesson I learned from that experiment is not to listen to the little voice that tells me I can't do things!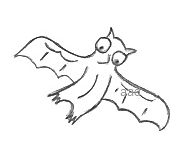 I also thought you might like to see a bat hanging around. Ok, it's a cartoon bat drawing, but let's remember we are in fantasy land here!
Cartoons are the best types of images for you to practice on because they are easy to copy and draw successfully.

If you enjoy this site, then please sign up for the free newsletter, Sketchy News, to learn extra drawing tips and how to have fun with new techniques. Become a part of this learn-to-draw community by entering your details here ...
All About Wizards
This information is here to help you create better wizard drawings and to give you more insight about this fascinating character.
Men with similar powers to a witch are called wizards. They need to learn and memorize their spells for them to be effective.
Wizard means "wise one" - this refers to their wisdom which comes from supernatural powers.
Wizards can make potions which can be used in conjunction with their magical powers.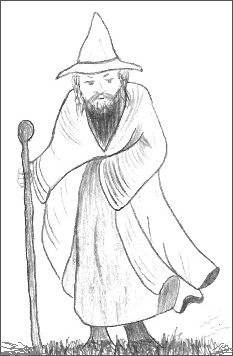 They also use magical artifacts or amulets to assist them with their magic.
Wizardry is a magic skill or magic, according to the dictionary.
Magic is a superhuman power. Astrology and fortune-telling are supposed to be forms of magic.
Wizards command respect due to their specific skills and their tremendous knowledge.
So, to summarize, wizards rely on their skill, knowledge, amulets and incantations when they cast spells.
Incantations are special words spoken perfectly in a sequence.
Amulets are stones, charms, rings or objects with supernatural powers.
Wizards are also known as sorcerers.
I hope you like these wizard drawings and I hope you are inspired to start drawing some wizards today. It is by practice that we learn about the essence of a subject.
Once you know how to draw one thing then you can be sure you will be able to draw more things.


Want to know where to go next? See: