Search for images or info
Your Sci-Fi Drawings
Your Sci-Fi drawings are contributed by guest artists to allaboutdrawings.com and are shared here with friends.
You're invited to take a look through the sci-fi drawings done by my lovely guest artists or simply scroll towards the bottom of the page to find them.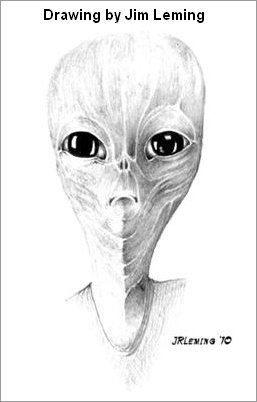 This is a drawing by guest artist, Jim.
Jim does a great job of exploring other beings and his stories always give food for thought.
If it is a great interest of yours to draw sci-fi, then you've come to the right place!
Visit Jim's collection of sci-fi artwork to see some amazing creations.
Science Fiction, otherwise known as "Sci-Fi", refers to futuristic worlds - in space or underground. It differs from fantasy just a little bit because some things Sci-Fi may be possible.
Sci-fi can be portrayed as some time in the future or even in alternative timelines.
To draw sci-fi related items, you could create things like ray guns or robots, anything that you perceive may be a part of a future world.
The paranormal can also be portrayed within the scope of sci-fi artwork. Let your imagination fly and take you to unknown and undiscovered territory. It has got to be an exciting experiment, do you agree?
The drawings here provide a good platform for you to generate new ideas and to help you draw sci-fi successfully.
Question: How come I can't upload my drawings to this website?
Answer: I regret to say that the facility to send in new science fiction drawings is no longer available, I am so sorry.
The good news is that you're now invited to join in over at the All About Drawings Facebook page where you're welcome to share your drawings and latest news.
Sign up here for your free newsletter!