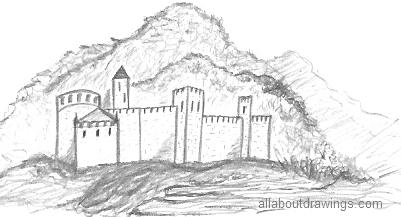 A lot of castles were built on top of steep hills. The castles built on level ground were given the extra protection of an outer wall and a moat. A moat is a deep water filled ditch. These castles also had a drawbridge for access across the moat.
The grounds inside the castle walls were so large, villagers could build their own huts to live in. Depending on their size, castles could house thousands of people.
A wall-walk runs right around the top of the thick stone outer walls. Towers jutted out from the walls for extra protection. The soldiers or villagers could fight the enemy from three directions from within the towers.
You can imagine how much of a tourist attraction they are today since they are completely steeped in history. I wouldn't like to be paying for the upkeep of a castle though.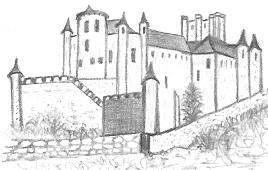 This is a drawing of a Spanish Castle, also known as an alcazar. Each country/culture/century has very different types of castles.
So if this isn't how you imagine a castle, then that's ok, because for every person I asked, each one preferred a different castle drawing.
A Little Practice Goes a Long Way...
This drawing is my very first attempt of a castle from imagination. (Believe me, it isn't easy sharing these awful castle drawings - I do it in the hope of inspiring you to do better!)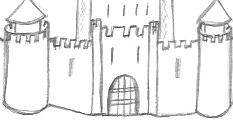 It looks like an early childhood drawing but I'm thinking maybe my knowledge about castles hasn't increased much in the intervening years.
I didn't use a reference picture so I'm pretty proud of it being from my imagination when I was a raw beginner artist.
My lines are very crooked and the perspective is incorrect which is normal when we first start to draw.
The other castle drawings should provide you with some ideas to generate pictures in your imagination.
The information provided here is to help you create a realistic drawing of a castle. When I did my research on castles, I know I learned some facts that I didn't know previously.
I found I had fun drawing the castle on a hill, drawing the mountains in the background and experimenting with how the earth around the castle appeared. Sometimes I get a nice surprise, just with the effect that the pencil generates on certain types of paper.
Truthfully, I am not concerned about being a professional artist because I want the freedom and fun of being a hobby artist. I hope you indulge in this journey of learning with me and to just have fun.