Rose Pencil Drawings
Challenge your drawing skills and produce your own beautiful rose pencil drawings.
Roses are more complex than most flowers but still, that's no excuse for not trying to draw one! We'll have a go at sketching black white rose drawings and give ourselves a thrill when we see the results.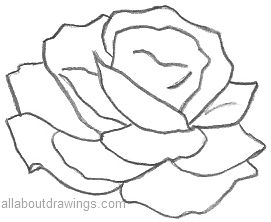 In this drawing, I have purposely left the center blank otherwise the outline gets too complicated for you to copy.
I found it easier to draw the outside edge when I first attempted to do this outline of a hybrid tea rose.
When you do a drawing of a rose, just look at each petal individually.
To draw a rose is a bit like setting goals - it's easier to set a daily goal rather than a monthly goal.
So, that means when you draw a rose, look at one petal at a time and not the whole rose.
Always do the details last - after you are satisfied with a good outline.
Aim to find reference pictures that look like you can easily copy them and I promise you will always enjoy drawing.

By the way, if you want to learn more simple drawing tips, request a copy of the free newsletter called Sketchy News. You're welcome to enter your details here ...
About The Rose
Roses are among the most popular of all flowers. They are a symbol of fragrance and beauty.

The most popular garden roses are hybrids.
A "hybrid" means they are crossbred from two different varieties.
Many have been bred from the wild sweet-briar and the dog rose.
Roses grow in many parts of the world and they now flower for many months.
They do well in temperate and mild climates.
Attar is an oil from rose petals and it's been used for centuries to make perfumes.
Some plants of the rose family have regular flowers with only five petals.

Rate of Difficulty
I found when sketching my rose pencil drawings that it is definitely not an easy subject.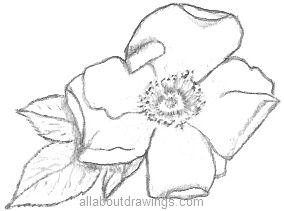 However, this drawing of an old fashioned rose was much easier because they only have 5 petals. I love the simplicity of this rose.
This was my first attempt at drawing curling petals.
I squinted to see the basic shape where the curled portion rested on the petal and that made transferring the image to paper a lot easier.
With every little attempt I made, I could see an improvement in each one.
Black and white rose drawings have tremendous appeal to those of us who love to draw with graphite.
I hope you have a go at drawing a rose otherwise you will never know what you are capable of creating.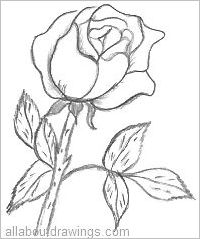 Don't ever be discouraged, you should see some of my attempts!
I got lost around the petals a lot of times, but I persisted and I finally drew one that resembled a rose.
If you are easily frustrated when drawings don't work out, it might be better to practice more flower outlines before you tackle drawing a rose.
I hope you like these rose pencil drawings and that you see something here that you would like to copy.
For a bit of extra fun, don't miss out on seeing the tip on how to do a quick sketch of a rose.

Searching For More?