Search for images or info
Flower Outline Drawings
Do you love the simplicity of flower outline drawings?
When I first started to teach myself to draw, I was always searching for something that I could illustrate successfully with my limited talent. Flowers were the answer! When I drew a lovely flower without too much effort, that encouragement spurred me on to do more.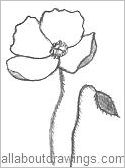 Take a look at this outline of an Arctic Poppy.
Everyone has different taste but I love the elegance of these outlines.
When you are drawing flowers, you can make the task easier by concentrating on one petal at a time. Take notice of the contours and outer shapes.
Start off by doing your initial sketch lightly (it's easier to erase!).
When you notice you are establishing a rhythm with your flower drawings, it's a good idea to try sketching a real flower from all different angles. It's a little challenging but you do discover which is the easiest aspect to illustrate.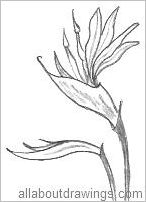 The next flower image is of the Bird Of Paradise -- I think it is quite an exotic looking flower.
You don't have to copy every petal if you are drawing something complex like a Chrysanthemum. Instead, define the major petals and leave the rest to the viewer's imagination by using some vague lines.
When you are drawing flowers, find a comfortable seat and your favorite sketch pad.
I still like doing my drawings on photocopy paper but choose whatever suits you.
These flower outline drawings are all done with my favorite 2B mechanical or retractable pencil. The lead doesn't need sharpening and it gives a clear, crisp line to my pencil flower drawings.
A "B" grade pencil has the softest lead and it is the best grade of pencil for beginner artists. A 2B can do everything that we require - that is, it can be light or dark, depending on the pressure we use. Click here if you want more information about art pencils and paper.
Let's Draw An Outline Together...
Get your pencil ready and start your flower outline drawing. Remember to ignore any and all detail within the flower, you are only drawing around the edge.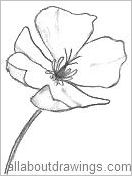 Choose which outline appeals to you and copy it to the best of your ability.
Sometimes I abort an attempt and move straight onto starting again - attempt number two, or three, you know how it goes. This can happen lots of times and it's normal. Actually, it's interesting when I now look back at those pages to observe my learning process.
Once you are completely satisfied with your initial light outlines, it's time to go back over your flower outline drawings using more pressure on your pencil to make the best lines darker.
You can add some random strokes (holding the pencil side-on to give a smudge effect) to indicate shadow on petals, just as I did to my outline of a California Poppy shown here on the right.