Search for images or info
Flower Drawings In Pencil
These flower drawings in pencil are all done as a basic outline to make it easy for you to copy and draw along with me.
To kick off our drawing time together, let's try this outline of a pansy.
If you can get the outline right, all the rest of the drawing will just fall into place.
There are so many varieties of pansies and they are so pretty - it's like they were made just for us to do some lovely illustrations.
These particular flowers are ideal for decorating birthday cards and they are especially great in color.
However, before we start dabbling with color, we need to be sure we can imitate the outline or form adequately.
The trick is to start with simple drawings and then gradually move onto more complex subjects.
I like to think I specialize in simple because it is the only way to prove and convince myself I can draw!
These pencil flower drawings do portray beauty in its simplest form.
I know we are all different (and that's a good thing), but I just love the look of black and white flower drawings.
Once you feel you can draw the pansy successfully, keep going and copy the different varieties shown here.
If you want a little more guidance to get underway, this helpful marking system might be the answer.
Fill up your sketchbook with these delightful flower drawings in pencil and you will have hours of pleasure as you browse through them at a later date. That's one of my favorite activities!
The Poinsettia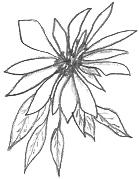 For my next drawing, I decided to do a poinsettia or, should I say, my version of a poinsettia.
This is not an easy drawing when you are copying from a reference picture because there are no clear lines to follow.
The foliage is all huddled together and can appear complicated to raw beginner artists. If you find this is the case for you, leave this one until you feel ready.
Poinsettias have a bright red flower with a yellow cluster in the center.
There are other colors available now in cream, pink and white - it's very clever how new plants are created these days.
I used to have a beautiful red poinsettia in my garden and it provided me with much pleasurable viewing.
Violets
This is a drawing of a common violet.
Violets make such a cute ground cover. I nuture my violets, I love to see them popping up everywhere. (I have a battle on my hands because my husband thinks they are weeds!)
This drawing consists of very simple lines with some stippling for effect.
It is important to observe the little bits that make a flower attractive.
It is up to you how much you highlight in a drawing, the main idea is to illustrate how you perceive nature. It is your opportunity to think with a pencil.
The shapes and color of the violet are an eye-catching combination in the garden but I think my flower drawing in pencil still shows off its charm.