Search for images or info
Drawings of Lotus Blossoms
Copy these drawings of lotus blossoms - Nature designed them just for us beginner artists - beautiful yet simple to create. This delicate flower is so pretty!
I know you can draw it because I have been teaching myself to draw for only four months now and you can definitely do everything I can.
I copied this main lotus flower outline from a photo of an Egyptian Lotus in one of my many reference books.
Due to the simplicity of this outline, you will have fun producing some lotus drawings and I'm sure your friends will be impressed.
The big leaves that cover the water surface are the easiest things to draw and they make a sketch look more interesting.
Below is my version of the copied outline and I made very small and subtle changes to it. Simply visualize where you see folds on the leaves for them to blend into your sketch in a natural way.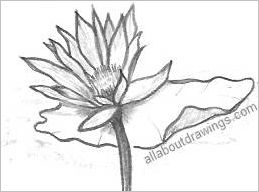 Don't forget that shading is the last step in the process, get your outline right first and then you complete the drawing to how you want it to look. Unfortunately, my shading is too light and it hasn't scanned very well, sorry about that.
I hope you find these lotus flower drawings attractive enough to inspire you to want to draw them.
About The Lotus Flower
When you draw, it really helps to know a little bit extra about your drawing topic in order to produce realistic artwork.
This is what I found out:-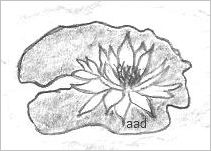 The lotus belongs to the pea family and there are almost 100 species.
We often call them a water lily because they grow on the surface of rivers and streams.
They grow on a weak stalk which rises only a little above the water.
The leaves spread out on the surface.
The lotus is a sacred flower in some cultures and has been featured in ancient Egyptian art.
The American Lotus is related to the East Indian Lotus - we also know it as a yellow water lily. Their stalks rise about two feet (60 cms) above the water.
The lotus flower is a very familiar sight along the Nile River and its streams.