Learn By Doing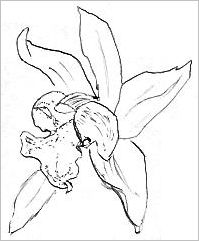 Two orchid drawings on this page were done on a whim so they evolved as I held a pen and not a pencil.
Here is my first attempt (in pen) of a roughly sketched orchid that I drew as I was making some notes about orchids.
Remember that it's good to keep your drawings and sketches together in your sketchbook so you can monitor your drawing progress.
This sketch will be cut from my note pad and pasted into my sketchbook even though it's not of good quality.
You will surprise yourself when you attempt to draw this complex form.
Once you finish one, you will have learned about the shape and you become more comfortable about drawing the next one.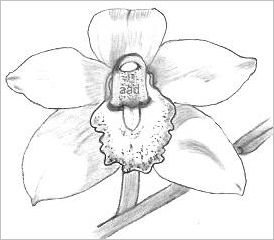 After I became familiar with the bloom, I put more effort into this orchid drawing on the left by squinting to help me see light and shade more effectively.
I love to see that I can produce something like this even though I still have a lot more to learn.
It is a good idea to draw what you see and there is no need to include every single detail.
Look at the shape subjectively and decide what you want to portray - after all, you are the creator here.
I think this drawing turned out better because I had roughly sketched a few images prior to drawing with care.
Drawing Tools
Where there are several orchids on a single stem that you wish to draw, you can use a grid for assistance.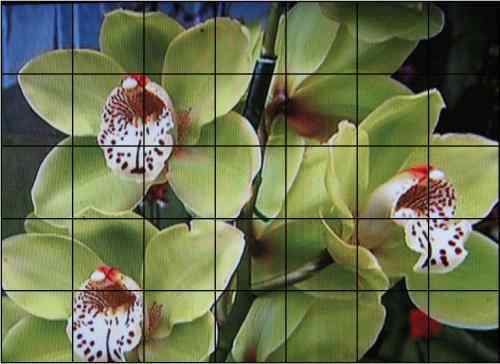 If you have a photo on your computer that you'd like draw and you want to place a grid over it, you can use this free program called Photofiltre. Follow the directions on that page to see how I placed this grid over my orchid photo.
Time To Ponder
This is my very first rough sketch that helped me work out how to effectively get the shape and appearance right.
If you try this, keep going over your lines until it appears to be correct.
This was done in pen and that was a bonus because I couldn't erase the incorrect lines which actually help to find the right ones.
There hasn't been a subject that I don't enjoy drawing and these orchid drawings have been no exception.
Flowers are such a joy to produce and a pleasure to view.
Going by my experience with this topic, beginner artists are better off focusing on practicing with straighforward flowers prior to attempting to draw orchids.
It's in your best interest to keep with simple line drawings and by practicing with easy subjects that interest you.
However, you can always try drawing the outline of an orchid (at top), which is what I was copying here. It doesn't hurt you to do that and then you can judge the progression of your drawing skills.
The most important thing is to love and enjoy every drawing moment that you can manage.