Search for images or info
Rose Pencil Drawings
You can produce your own beautiful rose pencil drawings just by quickly testing your drawing skills.
Roses are more complex than most flowers but still, that's no excuse for not trying to draw one! Just make an attempt to copy/sketch an easy black and white rose drawing - you'll probably see results you never even thought possible.
In the outline below, I have purposely omitted the center otherwise it becomes too complicated for copying.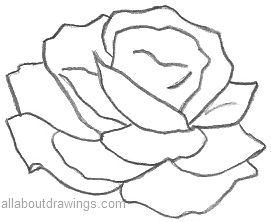 I found it easier to draw the outside edge when I first attempted to do this outline of a hybrid tea rose. I placed small marks to indicate the height and width which helped to keep it to a reasonable size.
When you decide to create a drawing of a rose, start by looking at each petal individually to avoid being overwhelmed by the overall picture. The whole concept of drawing is similar to setting goals where it's easier to set daily tasks rather than becoming overwhelmed by what you need to accomplish in a month. So, one petal is equivalent to a daily goal, it's breaking the big picture into bite-sized pieces.
Always add effects and detail last - after you are satisfied with a good outline.
Find good reference pictures that look to you like they're easy to copy and that way, you're sure to always enjoy drawing.
About The Rose
Roses are among the most popular of all flowers and they are a symbol of fragrance and beauty.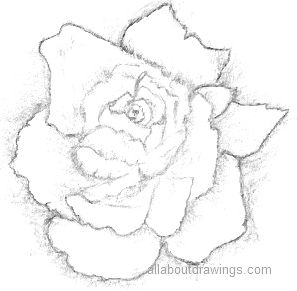 The most popular garden roses are hybrids.
A "hybrid" means they are crossbred from two different varieties.
Many have been bred from the wild sweet-briar and the dog rose.
Roses grow in many parts of the world and they now flower for many months.
They do well in temperate and mild climates.
Attar is an oil from rose petals and it's been used for centuries to make perfumes.
Some plants of the rose family have regular flowers with only five petals.
I really like this rose pencil drawing created by my Mum but I think I ruined it by making the outside darker, sorry Mum!.