Search for images or info
Sketches Of Roses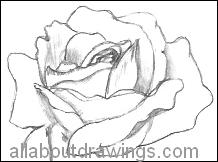 When creating sketches of roses, the aim is to capture the character and beautiful lines of this bloom.
In my view, this isn't an easy subject to draw because I am still in the early stages of artful practice.
There is no harm done if you want to attempt drawing a rose but please be aware that you might become frustrated with the intricateness of the petals.
It takes patience and practice to create good rose sketches, so before you start, make sure you're confident enough to take on the challenge!
It does help to remember that most roses have 5 petals in each layer.
There are lots of ways to master a realistic rose drawing and by trial and error, you will find a method that suits your style.
Luckily for us there are no rules in art! You are sketching this rose for you, so you are free to use your inner vision.
Inner vision is your unconscious impressions, it reflects images in your mind. So, think of it like looking at a reflection in the water which is not quite the real thing.
Outer vision relies on what is truly there.
So, while doing sketches, you are combining observation and imaginings. Isn't the practice of drawing a beautiful thing?
Don't Be Afraid To Copy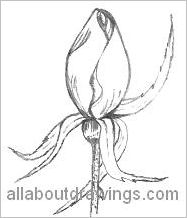 I copied this rosebud from a gardening book. I'm not sure I've captured the correct shape of the bud but I'm happy with the sketch.
I used photocopy paper (it copes with a fair amount of abuse from my eraser), and I used a 2B a mechanical pencil.
Before you commence your sketches of roses, you might find it helpful to draw a border on your paper first.
If you are copying from a picture, you can measure the pictured rose with your pencil and make tiny marks on your paper for the size of the petals or for the size of the whole rose.
It's up to you and how much confidence you have in copying it true to its form.
I use pictures only as a guide - my sketches of roses are not exact copies of my reference pictures. I like it that way, it makes me feel like I've had some input into the creation.
If you see imperfections in your drawings, that's ok because it is your inner vision showing itself!
With line drawings, every artist eventually finds a method to suit their own personality. In time, this method becomes a characteristic of your drawings - in the same way that people recognize your handwriting.
Adding Shadows And Highlights
In the image below, I started sketching from the center and worked my way out from there.
I used lines for shading, rather than subtle smudging.