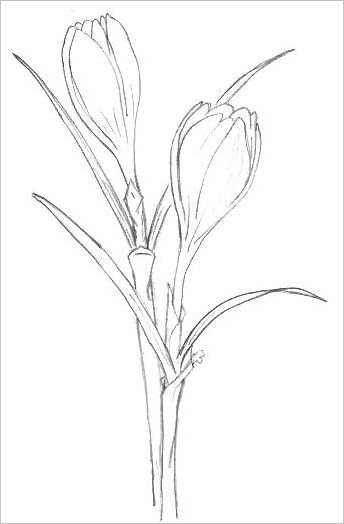 There is a fantastic e-book called Drawing Outlines that is available now (for a very low price) and it sets you up perfectly for any drawing project.
Depending on the complexity of your chosen flower, you might like to practice drawing the flower on its own prior to completing a more finished piece including stem and leaves.
If copying from a real flower, remove a petal and draw it separately.
Next, observe how the flower joins with the stem and the way the bud opens to reveal the flower. Draw this small portion and discover that you become more inspired by these kinds of interesting little study sessions.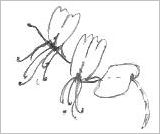 That's why I like doing small pieces like this one on the right …
For pencils, I mainly used a 2B mechanical pencil, they are particularly great creating for fine strokes.
My favorite drawing erasers are white plastic and kneaded.
These easy flowers to draw were created on plain old photocopy paper because I like the durable, smooth surface.
I make my own sketchbooks with photocopy paper -- -- instructions are included as a bonus when you purchase the How To Sketch Guide.
You also receive a cute step by step drawing book; a list of my favorite drawing tips plus numerous illustrations for copy and study purposes.
Start With Easy Flowers To Draw
This is a rough sketch that was created on the spur of the moment. I left all of my guidelines in because I like seeing the workings of the piece.

It doesn't matter if your drawings don't appeal to everyone, that is quite normal and natural. Differences make the world a more interesting place.
I found these easy flowers to draw in some great free ebooks which are filled to the brim with wonderful outline drawings. Unfortunately, they have been removed from the website where I found them so I can't provide the link anymore, my apologies for that.
Some of my drawings here were copied from those online books.
Please remember that these images are for your personal use only
and cannot be claimed as original artwork created by you.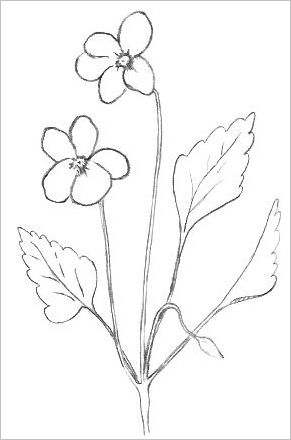 Anyway, there's no point in reading about drawing if you don't have your pencil at the ready.
Creating basic illustrations like this boost your confidence and soon you will want to move on to more complex art studies to further your skills.