Search for images or info
Articles About Drawing
I wrote the following articles about drawing, to be published and promoted on the popular research website - Ezine Articles.com.
Anyone can reprint them on their websites, ezines, forums, blogs or in print as long as they follow the terms of service.
The articles are here to help you increase your knowlege about pencil drawing and to provide you with more information to add to your artistic arsenal.
I do have similar pages about these topics on my site but they are presented a little differently than those here.
The great thing about drawing is that this information never goes out of date! You can read a book about learning to draw that's over 100 years old and it will still be current.
Simply click on one of the titles below to read the full article at Ezine Articles.
Drawing Articles
A Quick Glimpse At The Rules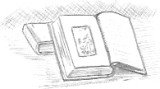 Here is an excerpt from the "Publishers Terms of Service" at Ezine Articles:
"Attention Publishers & Webmasters; Our Reprint Policies:
If you wish to publish/reprint any article from our site in your ezine, web site, blog, forum, RSS feed or print publication, you must:
Respect the copyrights of the authors by publishing the entire article as it is with no changes.
Agree to include the FULL Resource box or SIG line at the end of the article.
Agree not to change the title or content of the article in any way..."
Click here to read the full Ezine Articles Publisher Terms of Service.
Whether you're looking for new content for your publication or for your own personal growth, I hope you find these articles about drawing useful!