I started at the top of my wrist because I like to draw from left to right.
As you concentrate on the contour of your hand, start to draw what you are seeing. This is a simultaneous process - draw as your eyes move slowly over your hand.
Learning as you go
I found my eyes raced away and went too fast for my pencil so I had to really focus and concentrate on one quarter of an inch at a time. In my blind contour drawing (attempt number 2), you can actually see the little quarter-inch bits as I tried to keep my eyes in tune with my hand movements.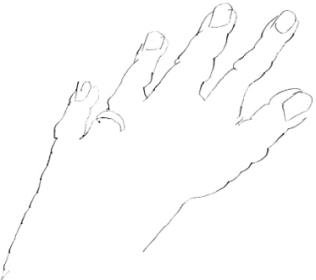 In hindsight, I should have drawn in the wrinkles on each finger because they are defined as edges, too. Those lines could have ended up anywhere!
Your pencil should move in perfect rhythm with your eyes. As I said, this was the hardest part for me but it may not be the same for you.
As you get into this exercise, the right side of your brain should gain complete dominance over the interfering and very busy left side.
Once you are finished, think about how you have reacted during the exercise. Did you surrender to the process and feel completely quiet? Could you feel the inner struggle to give in to the need to look at your paper?
It doesn't matter if your blind contour drawing doesn't resemble your hand because it is meant to achieve 2 other purposes:
Your attention is focused entirely on the subject.
No attention is given to the drawing.
In other words, the left side of your brain is being completely ignored and that's what we want!
If you successfully drew your hand without looking, and you took your time, then you just used the right side of your brain - the artistic side.
I hope you gain a lot from this activity because I know I certainly did. It's like a power boost to what you truly can achieve even though your mind is telling you otherwise.
After My Blind Contour Drawing Exercise
Once I finished doing this experiment, I immediately drew my hand again while glancing between it and the paper. I must admit, I was really hoping for some magic to happen after all the hype I'd read about it. I guess it's not too bad at this early stage but I clearly need to practice more. Luckily, I'm not averse to practicing, drawing is the most enjoyable thing and I'd be a lost soul without it!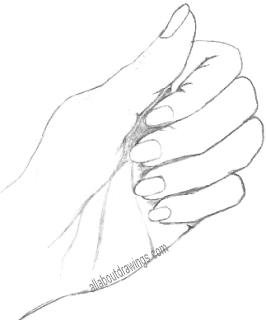 If you do a quick blind contour drawing exercise prior to undertaking any kind of artwork, you are prepared and ready to draw well. It's like a warm up exercise for your fingers, only this is also good for your mind!
If you enjoy drawing activities, you might also like to have a play with the Observation Exercise.
I must give thanks to Betty Edwards for her wonderful book "Drawing On The Right Side Of The Brain."
I refer to it all the time and it contains more good information regarding blind contour drawing.
It really is a must-have for all would-be artists because it opens your eyes to what you are capable of producing.
I have the very first version of this book by Betty Edwards and it really is an excellent guide for all beginner artists. Go ahead and prove it to yourself! I guarantee it'll change your life.