Of course, there is no need to replicate this drawing exactly, you only need to feel the movement and portray it along similar lines.
Once you establish a rhythm, everything goes ahead very easily and quickly.
Follow the directions below to complete the next exercise.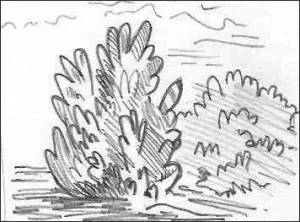 Do an air drawing with your finger, following the movement of line.
Copy and complete it within 3 minutes.
Copy again only this time complete it within 2 minutes.
Reproduce it as best as you can from memory.
With free and regular movement of the hand, you will quickly progress.
Once your hand and eye have increased their skill, your touch becomes more certain and objects will emerge without much trouble. You feel more confident and brave enough to create an original sketch - isn't that what you always want to do?
Just be patient and if you practice rhythm drawing consistently, your reward is just around the corner!
Using Dots As Markers
Sometimes it helps to use dots as a guide to complete the outline of a subject, depending on how complex it is.
Here is a little exercise that shows how to follow dots with rhythm and contour.
On your paper, place random dots at different distances apart. The idea is to make an easy flowing curved line from the first dot to the last, avoiding breaks and angles.
Important: Don't watch the pencil-point. Envisage a curved line (that is already on the paper) going through those dots.
Accurate artwork involves mental picturing. If you have difficulty doing this, the above exercise should help you to develop that skill.
Drawing With Rhythm
I can't stress enough that you won't improve without practice. All it takes is for you to find an exercise that interests you so you can continuously draw to improve. You can do this!
The rapid drawing exercise will not only show you a way of implementing speed into your work but it's also a great way to exercise your memory.
You will have your own select audience who likes your artwork and they want to witness how you view the world so just draw what you see and like.
If you fall into the habit of rhythm drawing, your images will evolve on paper so naturally that I'm sure it will surprise you. Well, I know that's what happened to me after I practiced with everything I share here.
Take care, have fun and enjoy!