Search for images or info
Pencil Drawing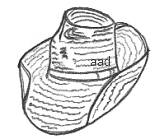 I wrote this article after discovering the numerous benefits of pencil drawing and I want to share with you how it can truly add to the quality of your life.
We all need to give our minds a rest sometimes -- I know that's not as easy as it sounds but drawing is one thing that enables restfulness.
Your mind can be put at rest and refreshed simply by using other parts of the mind.
It isn't possible to switch off the lights that are on in the main part of our minds so we need to light a new part by diverting our mind somehow.
There's no point in saying you will lie down and think of nothing because your mind keeps busy just the same. It is only when new cells are stimulated that you will find some relief.
The answer is to choose one pastime and put all your concentration into it. It doesn't have to be something you are familiar with so there is no reason why you can't choose to draw!

Think about it, how does anyone learn how to tie shoe laces or a bow? Learn a job? Learn to write? ... Repetition! You are good at doing things that you continuously repeat.
Drawing is a companion to be enjoyed, it is a friend who makes no demands on you and it can excite you. It keeps pace even when you take small steps.
All of the outlines on this page are here for you to try your hand at copying. They represent the simplistic symbols that I chose to teach myself to draw.
Artists Are Happy People ...

Light, color and peace keep artists company to the end of the day. It is an enriching experience if you can find yourself a new and intense form of interest.
Pencil is the simplest medium for starters, which I think is fantastic because all black and white drawings have a magical appeal. Imagine how your friends will envy you when you show them your sketches?
I don't pretend to explain how to draw, but I do know how to get enjoyment out of this wonderful hobby.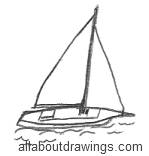 It is very possible to learn to draw even after the age of forty! It would be a shame if you waste your life, wondering what to do, when all the time there is a new world of artistic creativity waiting for you.
I didn't start pencil drawing until I was in my late forties, I always wanted to know if I could do it but I kept putting it off until I had the time. (Sigh), I guess we all have regrets.
If you do start this pastime later in your life, keep your expectations to a minimum and try to go with the flow of progress. It's heartening to know that some older artists have become famous, even ones that are self taught, so you could be one of them!