This is the painted version done by my granddaughter:-
It's actually A4 size so large enough for everyone to see at a glance.
While she was occupied doing that, she instructed me to create a mistletoe poster. It was such fun to play with glitter pens and use my imagination - needless to say they're not exactly true to form :)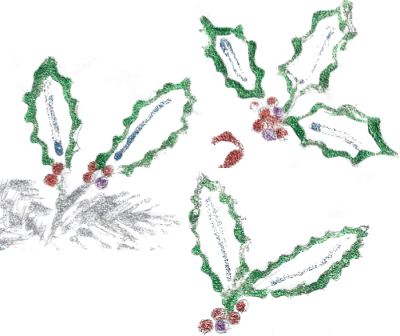 My granddaughter is the Director and I simply do her bidding. It's interesting to watch her decide where to hang the posters and to see what creative ideas she comes up with. I get to experience Christmas through her eyes and I love the feeling.
Through the week, I felt like creating a religious-themed Christmas drawing: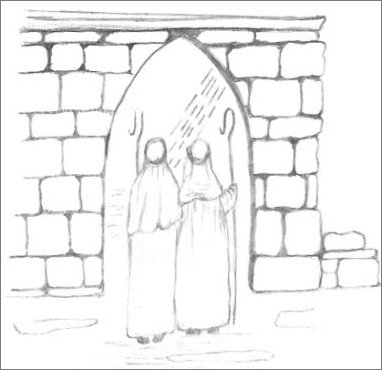 I really enjoyed designing the Christmas drawing picture above. The original was painted and very busy so the details weren't clear and I had to make them up. It really kept me entertained as I played around with lines and imagined how things should appear.
If you have a family member or friend who loves to draw, a great Christmas gift for them is art supplies. Amazon have a wonderful selection of drawing pencils and all other kinds of drawing tools that you can possibly imagine. I know it's a gift I love to receive, I can't get enough of anything to do with drawing!
My next project was to draw animals mentioned in Christmas stories and again the picture I copied was painted, so it was my job to simplify it in pencil: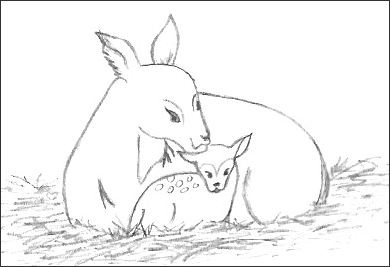 For the deer, I used my measuring trick to help me get the right proportions and end up with a satisfactory Christmas drawing picture.
There are lots more simple Christmas drawings here so please be my guest and have a browse around.
Did You Know?
"Amen" is used when you want to confirm what another says, to add more power to their words. It means firm and faithful but literally it means "so be it".
For me, Christmas day is spent with family, to be happy and grateful while we reminisce about good times with loved ones who have passed away.
After lunch, we have a raffle which is really like a Christmas game. My niece started this wonderful tradition when she was about 8 or 9 years old (she's now in her late 20's) and everyone loves it. We all vie for a turn at buying the prizes to be raffled and overall it's a very entertaining event.
I hope you have a very happy Christmas, thanks for spending your time with me.