Search for images or info
Japanese Drawings
These beautiful japanese drawings demonstrate how you can further simplify images with a unique style. Now you can learn a different way of portraying landscapes and other subjects with just a few strokes. In my opinion, it's very magical!
On this page, you can see my interpretation of images that appealed to me. Mine aren't exact and nor are they meant to be but I don't want to offend those talented Japanese artists of the past, so I will call my imitations Japanese-style drawings.
I probably haven't transferred the symmetry properly because I'm sure there is a meaning behind every stroke they make. My experience is limited in that area of composition but I hope to achieve something similar to their rhythm and grace one day.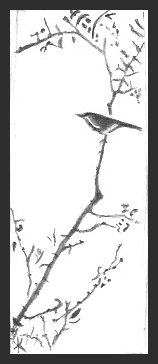 It was by pure accident that I stumbled upon some old japanese drawing books and wow, it's made a world of difference to me. I was astounded at the beauty of their images that were comprised of so few lines, it is amazing.
This effortless type of portrayal is the answer to all beginner artists' dreams!
In the pretty image on the left and with the exception of the bird, do you notice how it's mainly comprised of single strokes and dots?
It's an honor to share these works from Japanese artists with you because their influence may change the whole way you draw any subject.
If you want incredible drawings with a minimum of lines, do yourself a huge favor and take some time to study Japanese art.
Granted, a good majority of their work is done with a paintbrush but they use it with such dexterity, it may as well be pencil. It's so incredible really and I'm in awe.
If you at least have a go at copying their images, you will certainly gain enormous enjoyment from it.
They know how to truly portray subjects with a minimum amount of fuss yet the subject is easily identifiable.
After copying from their examples, I'm just in love with Japanese drawings. They make me proud that I drew such a good representation without getting bogged down with detail and they don't take much time, either.
I draw for my own pleasure with no desire to sell and I'm not claiming these creations as originals by me.
It's through their generosity that they kindly share their beautiful line art in order for us to learn and grow. It makes you open to finding out more about yourself and your capabilities.