Experimental Practice
This drawing is also copied from the Betty Edwards book and it illustrates a vase -- but in the negative aspect, you can also see 2 profiles. Basically, it helps you to observe from different perspectives.
Whenever I came upon something that I didn't like or couldn't do successfully, I put that book aside and immediately started another crusade with the next one. This isn't anything I recommend you do too, but I admit it did help keep my enthusiasm on an upward trend. Follow your inner muse!
Like a kid in a lolly shop, maybe it wasn't such a good idea to be given so many goodies (books) at once!
***Sidebar: Even though this book - "Drawing From the Right Side Of The Brain" by Betty Edwards got the same treatment as all the others where I skimmed pages to get to the exercises, I have since read the book from cover to cover several times as well as practicing along the way. It's a good investment that you'd never regret.***
However, all of the exercises that I did back then, contributed to pages and pages of my beginner drawings and I keep them for reference, so I can judge my progress. That's my incentive to keep drawing and improving, right there.
This also applies to selecting drawing supplies -- it doesn't help us to have a choice because it stalls the whole process. Ok, so that was one lesson I soon learned.
It wasn't long before I also realized that I had to overcome my impatience if I ever wanted to draw properly (lesson 2, you might say).
Gradually, I became aware that most books had a common theme that consisted of exercises for practicing lines and shapes. At first, I went straight past them because I thought I knew how to draw lines and shapes -- in my ignorance I wondered who needs to do that?
Then I bought the ABC Learn To Draw book via the Internet and I absolutely loved it. The author had a unique way of teaching that made practice fun. ** Update February 2021: This book is no longer available for sale. **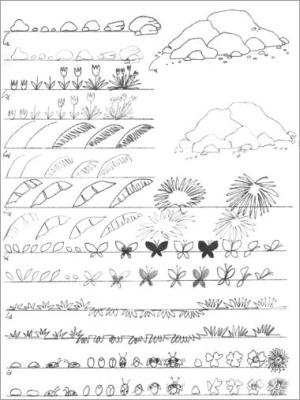 This image shows one of my practice pages from the ABC book.
I enjoyed going through the whole book. It opened my eyes to the importance of practicing because I could clearly see my own progress and improvement with each and every page (let's make that lesson 3!). I impressed myself by completing the whole book -- it was perfect for me - and I really advanced rapidly after that.
My family kindly gave me gifts of drawing books in the years that followed and that gave me a great opportunity to find an artist that I liked and understood. I really responded well to Barrington Barber books and I now proudly own most of them.
My imitation of an example in a Barrington Barber drawing book.
To this day, I still love simple line drawings because I know they have the ability to open up a new world for anyone who has an inkling to learn to draw. Those easy little images can become your personal beginner drawings and from there, who knows where you will go? You won't know unless you give it a try!
It's like a miracle to see a drawing emerge and while I have produced some shockers, there are many more successes and that's why I've never lost the thrill of this art.
Nothing would please me more than to see you give it a chance because it's true that everyone can draw, it only takes a little effort on your part. What's more, you can teach yourself, there is no need to invest mega dollars on this pleasure.
I am a self-confessed drawing book addict just because I love everything about this subject and I can't seem to get enough. If I learn one new technique out of a $30 book, I think it was a good investment! Gems are found by digging so you only need to start now to find the path you were meant to take.
From Beginner Drawings and Beyond
Based on my own experience from the last few years, I have now written some Kindle books for rookies to help you draw simple subjects (without spending much money). These are great to get you going and progressing at your own pace. Here are the links to those books if you are interested...
If you don't have a Kindle, you are able to download a free Kindle reader for PC, Macs or other devices here.